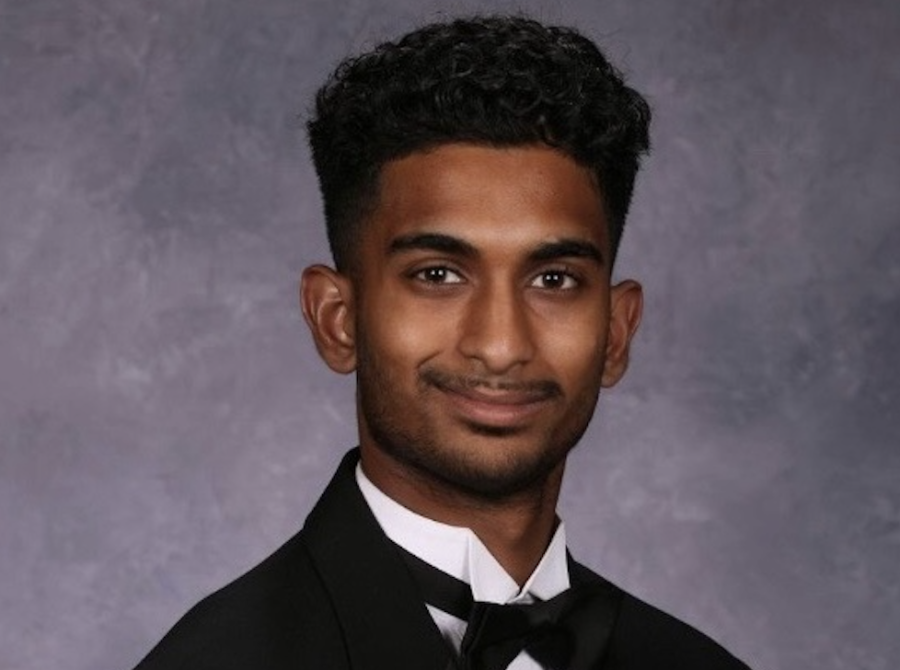 Anish Bellary
Varsity football player, DECA co-president, and avid film fanatic, Anish Bellary '22 has received the honor of being named Edison High School's September Senior of the Month. 
Bellary describes his experience at Edison High as eventful. He reflected that he made the best of the suboptimal conditions of the last two years: "Due to Covid, I wasn't able to have a proper high school experience but with the time I've spent at EHS, I can say with pleasure that I have made some of the best memories here."
Echoing the sentiments of former recipients, he did not expect to win this award. He feels proud of this achievement, and believes that he "is making some sort of impact on the school to be recognized for this honor." 
Describing himself, Bellary said, "I would say I'm a very self-determined, passionate, and outgoing person. I love being around people and I love to crack jokes with everyone, it doesn't matter who it is." This outgoing personality has helped him leave a meaningful legacy. Speaking on his gradual development as a student, Bellary spoke about his progress with humility.
"I think I'm on the right track now to accomplish my many goals before I leave this school," said Bellary. His philosophy to achieve this gradual progress and his favorite guiding quote?
"Try and fail, but don't fail to try" (Vinod Khosla).
He extends this philosophy outside of school as well by participating in club soccer and volunteering at his temple and local clinics. 
Bellary is involved in numerous extracurricular activities offered at Edison High, such as Student Council, UNICEF Club, and Rotary Club. He is also the co-president of the DECA program, a club focused on business. 
Reflecting on the principles that allowed him to get to his position, he advises students to "not waste [their] time with silly things."  He acknowledges that high school is fun, but emphasizes that students should "understand [their] goals and aspirations, then set a plan." 
Bellary offers tips for this kind of productive planning, 
"I've learned that not everyone you meet will always be there for you," said Bellary. "You have to know who are your true friends and who will just use you. I've learned to manage my time and developed many study techniques that work for me."
For him, as an avid movie fanatic, understanding his goals means actively trying to improve his filmmaking and cinematography skills. 
"I love taking photographs of anything like skylines, nature, and sports," said Bellary. 
After leaving the Nest, Bellary will pursue a bachelor's degree in finance while minoring in cinematography. Following college, he would like to "enter the industry working as an investment banker specializing in mergers and acquisitions."
The Edison High School once again applauds his selection as Senior of the Month.