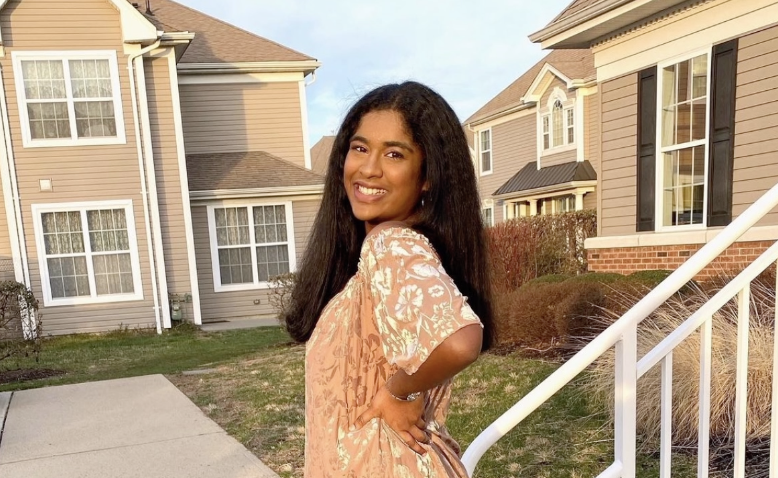 Sneha Rajagopalan
As a bright mind in and out of Edison High School, and as a leading member of its Marching Band, Sneha Rajagopalan '23 has been selected as October's Senior of the Month.
As a member of the Edison High School STEM Academy, Rajagopalan successfully balances her academics with her extracurricular activities. Her extracurriculars include being a drum major and section leader of the Edison High School Marching Band, where she has led the band to Bands Of America (BOA) Finals, making history for Edison High School. 
"My favorite memory from high school was definitely making BOA finals for the first time in EHS history. That was undoubtedly the highlight of the season so far," says Rajagopalan. She also enjoys fist-bumping Mr. Ross every morning and hearing him ask her "Is the band ready?," the classic question the announcer at a marching band competition asks as a signal for the drum major to start the show. 
Aside from Marching Band, Rajagopalan is also involved in Student Council, where she is the historian and co-chair of the senior class, and Peacock Society, where she serves as the music director for the club's annual "Fusion" play. In addition, Rajagopalan serves as secretary for Spanish Honor Society, service chair for Tri-M Music Honor Society, and is a member of National Honor Society, National English Honor Society, and Dance Ensemble.
"These clubs have given me a second family that I can always count on whenever I need. I met my best friends through band and dance and I'm so grateful for that. These activities also provide me relief from a stressful day of school," says Rajagopalan.
Outside of school, she enjoys giving back to her community by volunteering at homeless shelters and nursing homes in her spare time.
From her involved years at high school, Rajagopalan has some advice for freshmen to make the most of their experience. 
"Join clubs based on YOUR interests and hobbies instead of ones to boost your college application. If you force yourself to participate in these activities without a personal connection to them, you're only going to overwhelm yourself and it'll become another tedious job rather than a source of sanity," says Rajagopalan.  "Focus on a few that you actually enjoy and stick with them. Be what's great about Edison High." 
As Rajagopalan departs from EHS, she would like to thank band director Mr. Marc Denicoulo, Science teacher Ms. Kruti Singh, English teacher Ms. Diane Frey, and Dance teacher Ms. Vicki Jenkins for constantly supporting, pushing, and believing in her for the past few years. She wants to major in Psychology and go on a pre-med track in college, aiming to eventually become a pediatrician.