Hatching Out Of The Egg
THE END OF THE BEGINNING: THE PAST OF THE EAGLE'S EYE
November 17, 2022
Although now a digital publication, during the "fledgling" stage, The Eagle's Eye was a paper publication that went out every quarter. It was previously  known as The Edison Eagle and run by a multitude of advisors over the years. Traditional publications persisted due to their viewership and intuitive navigation.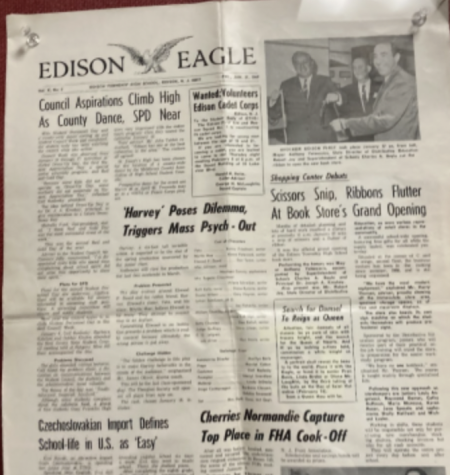 Much like the current process, various section-editors and one editor-in-chief in the past ran the newspaper along with their subsequent advisors, who oversaw the entire process. The entire process of content-gathering, pre-press, press, and post-press resulted in articles and editions read by hundreds of students.
Some newspaper alumni, inspired by their high school experiences, even decided to pursue journalism post-graduation. 
"I loved working on the The Edison Eagle as Editor-in-Chief for two years," said Bea Riemschneider Ebeling '71. "I learned valuable leadership lessons, how to write clearly, and how to work as a collaborative team to put out the publication. We had fun doing it and enjoyed the teamwork."
Ebeling was an Editor-in-Chief of The Edison Eagle. Now the Senior Director of Publications of the Outpatient Surgery Division for the Association of perOperative Registered Nurses, Ebeling noted the impact being editor-in-chief of various publications––including scholastic journalism––has had on her adult careers.
"
While the publication has changed throughout the years, the core of the Eagle's Eye stays the same: to provide insight for high school students within EHS. "
"Scholastic journalism continues to be challenged by the pace of innovation and scientific discovery and how and where to share that information. In my career, I have launched a variety of digital products that reach a select audience and I have really enjoyed having that personal connection and expressing my personality," adds Ebeling.