Tumbling Out Of The Nest
NEWER BEGINNINGS: THE TRANSITION TO A DIGITAL PUBLICATION
November 17, 2022
Edison High School's transition from a paper publication to a digital one in 2019 was motivated by a need for flexibility, accessibility, and sustainability. Although challenging at first, the introduction of layout editors and a streamlined process has allowed The Eagle's Eye to become an award-winning publication, reaching successes such as the Garden State Scholastic Press Association (GSSPA) awards. 
"The digital age opened up a lot of doors for many people, including ordinary people who want to share their opinions and information with the public," added Ebeling.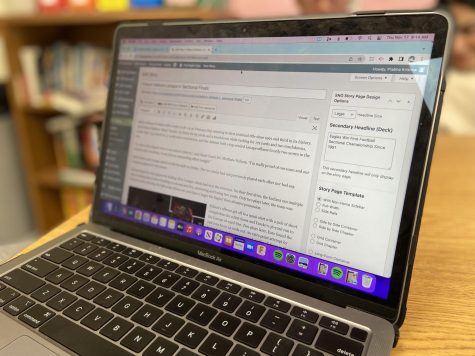 Pragya Singh '23, the features editor-in-chief for the 2022-2023 school year and past layout editor for previous years was a main contributor in developing better systems of communication and figuring out how to use SNOSites, the platform The Eagle's Eye uses.
"It was definitely hard to set up a system with which we could track the progress of the articles and ensure that all the editors had the required access and permissions. For the first few editions, I remember the layout crew pretty much pulling the entire edition through in a day and staying up to get the editions ready and in," said Singh.
With time, Singh and layout members Arnav Chinchankar '22 and Jayesh Chaurasia '23 were able to "[develop] systems to better communicate and streamline the process of our editions," and even amassed a prominent social media presence, with The Eagle's Eye Newspaper account having hundreds of followers.    
Nevertheless, in the midst of new developments of The Eagle's Eye, many of the experiences and lessons remained the same. New newspaper staff members retain the same passion and wonder when introduced to high school journalism. 
"
Scholastic journalism continues to be challenged by the pace of innovation and scientific discovery and how and where to share that information."
— Bea Riemschnieder Ebeling '71
"I really enjoy writing and I think the newspaper is a cool way to showcase people's writing and learn how to be a better journalist," said new staff writer Shriaditi Kancherla '26. "All the editors are really hard-working and provide a lot of support for new staff writers, and I also just enjoy the collaborative process of it."