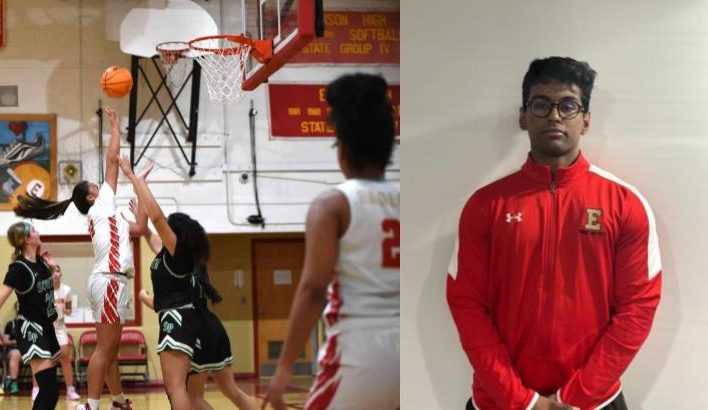 Go Scores, Pediredla Throws
January 13 Athletes of the Week
With the wide variety of sports that Edison High has to offer, noteworthy performances are bound to occur. This week, two athletes stood out above the rest: Ghelsey Go '24 of girls basketball and Partha Pediredla '23 of winter track and field. They each stood face to face with their career highs and shattered them to set new records.
On the girls' side of the athletic spectrum, Go impressed with three game-leading, all-around performances as the basketball team cruised to their tenth straight win. On Tuesday, against Middlesex, Go scored thirteen points, gathered five rebounds, and dished out seven assists. She even chipped in on the defensive side of the ball with two steals.
After displaying her versatility on Tuesday, she took her game to a new level against Edison's crosstown rival: J.P. Stevens. Every year, the pressure is on in this critical game, and Go decided to take matters into her own hands as she scored a career-high 25 points. On top of that, she tallied eight rebounds, two assists, three steals, and one block.
Adding icing on the cake after what was already a successful week, Go put up ten points, six rebounds, five assists, four steals, and one block against JFK.
Meanwhile, Pediredla was getting the job done in winter track and field. In the Middlesex County Relays on January 7, he launched a personal record and team-best 36′ 5.25″ throw in shot put. His throw placed him tenth overall in the GMC.
Pediredla is in the midst of a breakout season, as his 97′ 11 throw in 1.6 kilogram discus and 107′ 4 throw in 800 gram javelin are both ranked eleventh in the past fourteen years.