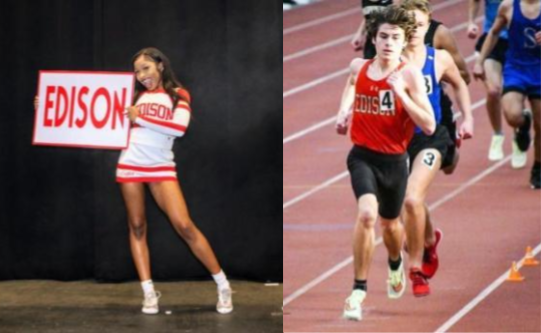 Trapp Flies, Pittenger Runs
January 20 Athlete of the Week
As we make our way through these cold winter months, Edison High athletes continue to shine. This week, the top athletes were cheerleading's Milan Trapp '23 and winter track's Paolo Pittenger '24.
At last weekend's competition, Trapp absolutely crushed it, hitting a switch up, high to high to high in cheerleading's new pyramid! During the performance, she had an issue but still managed to compete.  Trapp pushed through and finished the routine strong as the team went on to get first place. Trapp contributed as a leader for the squad to earn their highest score of the season.
At last week's track meet, Pittenger set a new personal record for himself, running a 4:48 in the 1600, the twelfth best in the past thirteen years. Not satisfied yet, he ran the 800 meter dash in 2:11, the fifteenth best time of any Edison runner in the last twelve years. He left his previous records in the dust as he developed into a top EHS runner.