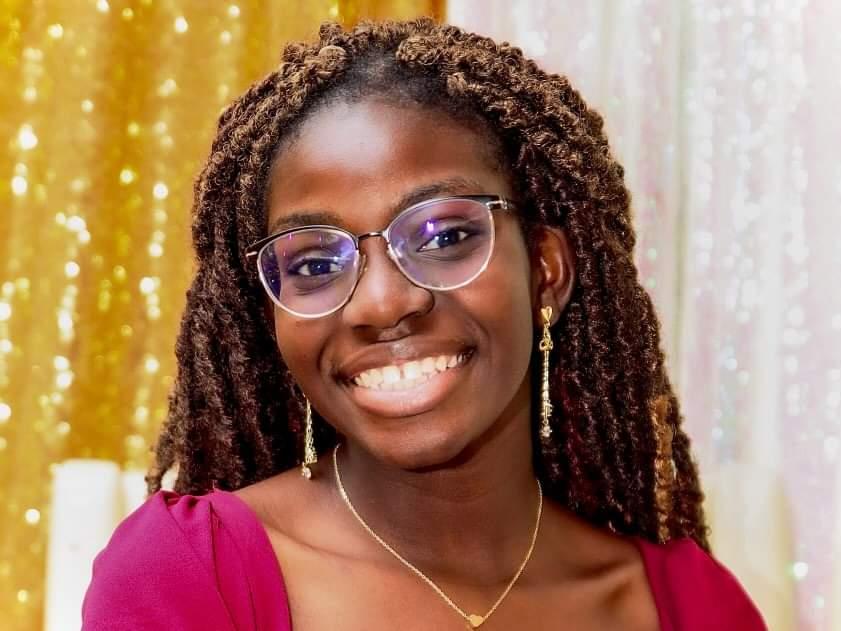 Adedoyin Ayeni
Musician and FCCLA leader Adedoyin Ayeni '23 has been selected as Senior of the Month for November.
Balancing her honors and AP coursework, Ayeni participates as a leader in many extracurricular activities. She has been an active member of her chapter and state FCCLA program, where she is currently the State Vice President of Membership and has earned many distinguished awards, such as the Top Ten Gold Medal for the FCCLA 2022 National Leadership Conference in San Diego, California.
"One of my best FCCLA memories would have to be going to Nationals for FCCLA in San Diego, California. It was an amazing experience and winning an award was the cherry on top. I got to meet so many incredible people," she said.
To accompany her achievements as a member of her chapter and state FCCLA program, Ayeni's extracurricular activities include being vice president of the Spanish National Honor Society, president of the Aspiring Medical Professionals Club, a Lacrosse manager since 2020, and Entertainment Editor for The Eagle's Eye.
In addition, Ayeni is a member of Jazz Band and the clarinet section leader for the Edison High School marching band.
"My favorite part of EHS would be marching band. I have grown through marching band and have become who I am. I met some of my closest friends through this activity. I have gotten to experience having a team that is like my family that works tirelessly day after day to make our show better," Ayeni said.
When Ayeni is not at school or doing extracurricular activities, she enjoys dancing, making TikToks, and being with her friends.
"Over these past few years, I've been able to grow as a person because of my friends that have supported me along the way," said Ayeni.
As Ayeni's high school journey comes to an end, she would like to thank her friends, parents, and English teacher, Ms. Diane Frey.
"My parents have always encouraged me to work hard and not allow my circumstances to hold me back. Mrs. Frey is probably the most influential teacher I have had. She taught me to be comfortable with myself and not let others change me and to express myself through my writing. I am so grateful for all of them," Ayeni said.
From her high school experiences, Ayeni would like to share some with underclassmen.
"Enjoy the time you have while you're still in high school and a freshman. Be sure to not take life too seriously. Everything will work out in the end, you just have to trust yourself," she said.
Post graduation, Ayeni plans to obtain an undergraduate major in biology or biomedical engineering and go onto a pre-med/med school track to become an orthopedic surgeon.