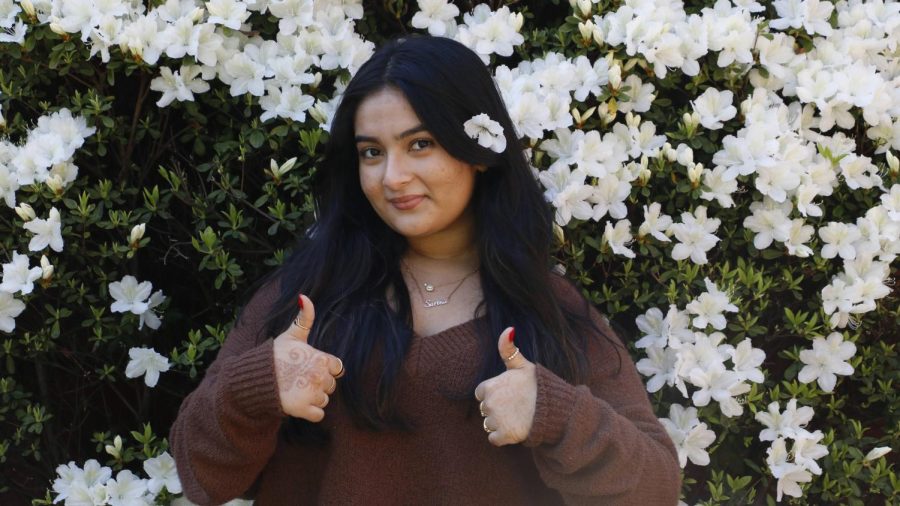 Sarina Ahmed
A leader: Someone expected to hold great leadership, integrity, and empathy. Senior of the Month for December, Sarina Ahmed 23', has been leading this school and working hard making it great again. By being the Student Council president this year, not only is she steering the school on a path of magnificence but doing it in a way that allows both the student and those in the school to prosper and have fun.
"
Advocate for yourself"
— Sarina Ahmed '23
As someone who is very involved in the school, she finds herself always surrounded by class council work, vice president of FCCLA (Family, Career, and Community Leaders of America), treasurer of the French Club, and a copy editor of The Eagle's Eye. She believes that the simple, yet profound reason she has been able to attain such a high position is by putting in the hours and working hard. As many may think that being in such a high position may be pretty stressful, she would feel the opposite and says that she has the most fun taking part in them. Whether it's hallway decorating, preparing for spirit week, or editing another article, she thinks it's key to enjoy the journey rather than the destination.
"Success is a personal feeling of achievement rather than any title. I think that you can feel success in getting up out of bed every day because that can be difficult sometimes", says Ahmed 23'. She believes that success is something that is not quantifiable by merit, but rather by the feeling of accomplishment. For her, she felt successful when principal Mr. Charles Ross came up to her, and asked for her opinion on something, and knowing that she could be honest and upfront with giving him an answer. This sense of trust between her and her peers is something that she has found to be a success of hers, that Ahmed would always be honest and kind to them.
Edison High School has been a place that Ahmed enjoys and has come to love through the years. However, the pandemic had slowed her down tremendously in her high school career, even though she had tried to apply herself, she was not used to the new system put in place. Over the pandemic, she has found herself learning that high school is not just a place where one has to be a straight-A student, but rather find oneself growing, and again, doing the things one loves the most. 
Ahmed believes that every experience, moment, and interaction in the school has shaped her to be the person she is today. Her favorite thing about the community is their desire to be better at any given moment, and this sense of acceptance they have. Ahmed feels privileged to be in such a school that holds a lot of room for diversity, which has given her an extensive view of what society truly is.
"Advocate for yourself," said Ahmed.