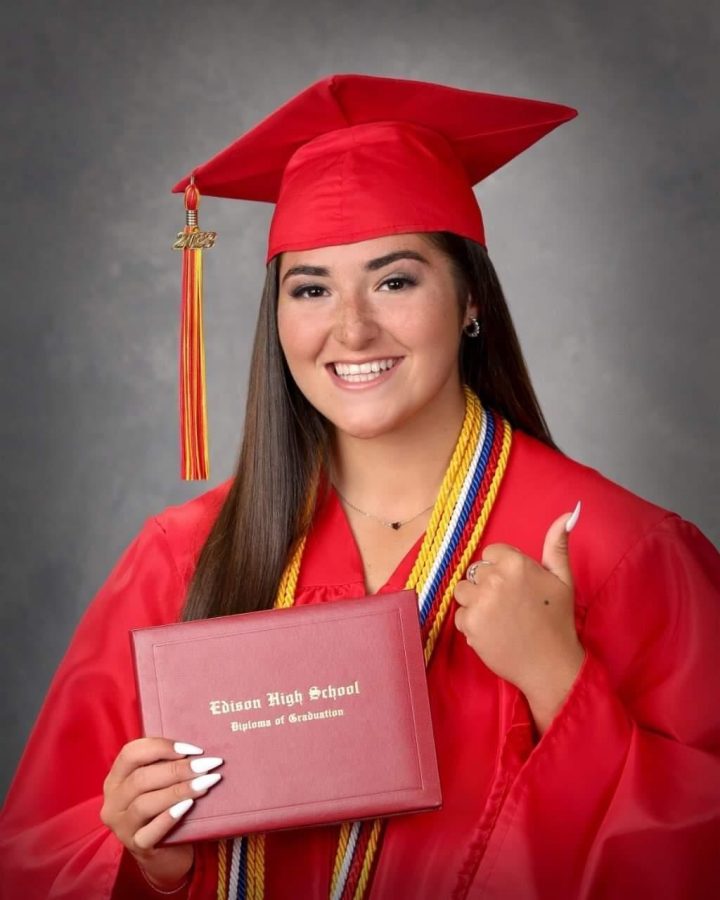 Cadence Sarni
The Edison High School community congratulates Cadence Sarni '23 for being selected Senior of the Month for January. 
A dedicated athlete, Sarni participates in a variety of sports. In fact, she has displayed a love for cheer since she was five. Cheering for the Edison Jets, she is now the varsity cheerleading captain. In addition, she is a volunteer junior coach for the Edison Jets Junior Cheer Team. She has also been the varsity softball captain since her junior year and has been on the varsity team since her sophomore year. 
"I want to give back to my community. My coaches have been such an influential and great part of my life, and I want to have that same impact on young athletes too," said Sarni. 
When Sarni is not at school or at practice, she enjoys working out and reading. 
"I just love reading and learning, and I wish I had more time to do so," said Sarni. 
As Sarni reaches the end of her Edison journey, she reflected on her time at Edison High. 
"I think one of the best parts about our school is our staff. Mr. Ross makes high school exciting, and I'm grateful to have coaches that push me and support me," said Sarni, "And as a lover of learning, I'm grateful that I have teachers that make me happy to learn and come to school." 
Furthermore, she recalls one of her favorite memories, which took place during her junior year. 
"One of my favorite memories was Volleyball for Charity. I didn't go to win, but just to have a good time. It was so fun dressing up in colored costumes and my friends and I won the best costumes. It was just a great time and I made such great memories," said Sarni. 
From her time as an Edison Eagle, Sarni would like to share the following advice with underclassmen. 
"Take advantage of the opportunities that are given to you," says Sarni. She says that in high school, she was given many hobbies, teachers, and paths to choose from. She also says that little things such as softball workouts, interest in clubs, and access to supportive teachers guided her through her high school years and molded her into the person she is today. 
Further, she advises to understand the value of finding people that match your goals and interests. She highlights that the people that you surround yourself with can ultimately affect your high school experience and happiness. 
"The people you surround yourself with genuinely shape the person who you are. Find people who lift you up and motivate you to grow," said Sarni. 
Sarni, an athlete and cheerleader at heart, wishes to double major in criminal justice and psychology. As stressful and packed as her schedule may be, she hopes to cheer in college as well.
Sarni says she feels honored to receive the Student of the Month award, and she reiterates her pride to wear Red and Gold in order to represent Edison High School. 
"
I want to give back to my community. My coaches have been such an influential and great part of my life, and I want to have that same impact on young athletes too"
— Cadence Sarni '23
"I love EHS so much, and I feel so great that I get to wear Red and Gold. When I go to student-athlete award ceremonies or Board of Education meetings to get honored, or to games and competitions, being able to do that in Red and Gold genuinely makes me feel so honored. I feel proud to represent this amazing school."