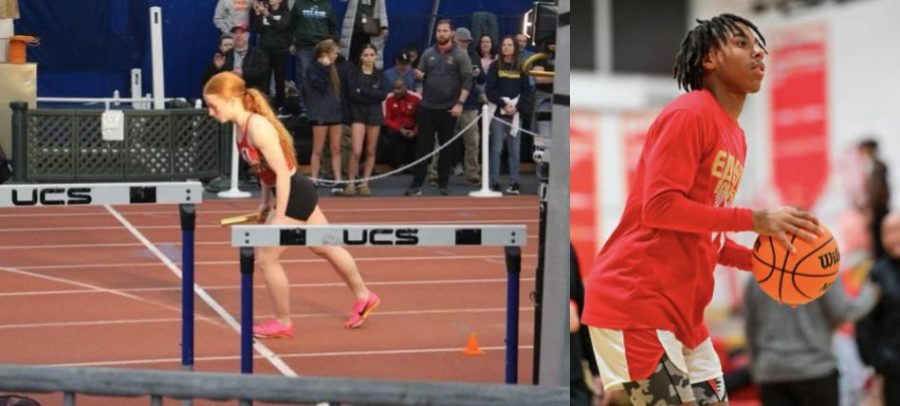 Matz Sprints, Harvey Hoops
With the first month of 2023 coming to a close, winter track produced yet another top performance. This week, the top athletes were boys basketball's Ricky Harvey '24 and winter track's Hailey Matz '23. Harvey is the first boys' basketball player to earn the award this year, while Matz maintained track's three-week streak for this award.
Edison boys basketball had dropped five of their last six games as their record sank to a bottom-feeding 4–9. The game against Woodbridge was tied 55–55 with one possession left in regulation. Harvey responded with a drive at the basket and a game-winning shot to build some new momentum for southside hoops.
He followed up that performance with an all-around effort in a tight win against North Plainfield. He racked up nineteen points (including a dagger from three-point range), while also dominating the paint to grab eight rebounds. That's not to mention his additional three assists, one block, and one steal.
The week was capped off by back-to-back Brunswicks: fifteen points against both New and North Brunswick. While each ended with a wildly different scoreboard (twenty-point differentials in a win and a loss), Harvey consistently led Edison High in points.
Things were no less exciting in this week's track meet as Matz kept up with the top dogs in the conference. At the GMCs, she placed sixth with a personal best of 1:01.8 in the 400-meter dash–but that was just the beginning.
Matz then placed eighth in the 55-meter dash with an Edison High School season-best time of 7.67, sprinting her way to history.
Throughout the season, Matz has managed to top the list of Edison runners in the 300 meter, as well as the aforementioned 400 meter race and 55 meter dash.
Not yet satisfied, Matz decided it was about time she entered the top five. She ran a 62.1 in the 4×400 relay race, vaulting herself into fourth place.