Coach Yocum – Girls Lacrosse
June 6, 2023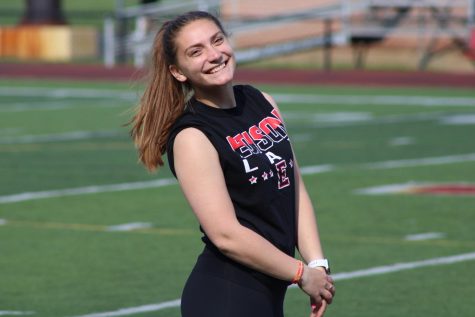 Head Coach Ms. Sara Yocum has secured the title of winningest coach for girls lacrosse. 
Yocum began coaching lacrosse two years ago in the 2021 spring season and, last year, achieved her winningest season of 9–6. Currently, the team is first in the White Division with a conference record of 7–1 record and 9–5 overall, as of the time of publication.
The Eagle's Eye reached out to Yocum for insight into her recent milestone.
EE: What made you get into coaching girls lacrosse, and how long have you been doing so?
SY: I played in high school at South Plainfield High School. I never imagined coaching the sport myself, but when I was hired here I was asked my other abilities and I mentioned coaching, as I had coached cheer for years already. I was then asked if I could coach anything else and I shrugged and said, "lacrosse maybe?" That exact year I was hired as an assistant and then took over as head coach in spring 2021.
EE: What has coaching been like, and what have been major games and experiences you've had?
SY: Coaching is a roller coaster. I experience a myriad of emotions. I am very passionate and take every practice and game seriously. It is stressful yet so rewarding when I see my athletes reach their full potential and achieve their goals. Major games were beating South Plainfield last year for the first time followed by our great start of a season this year thus far. 
EE: What have been some difficulties?
SY: As all teams, we experience minor difficulties. Roster changes, position trial and error, and of course getting over the large learning curve is a challenge. Unlike most towns, Edison has no youth program. So I am quite literally tasked with teaching all of these athletes the sport. Everyone comes up a rookie to the sport when they join the team. 
EE: How do you feel about becoming the winningest coach? Now that you are, how do you plan to continue this positive trajectory for yourself and the team?
SY: It feels awesome! But honestly, it's more of a testament to the awesome three teams I have coached. My first year we went 5–12, second year 9–6, and currently we are 7–2. I am the fourth head coach in program history, which has existed since 2012. I hope to stick around for a bit to continue to aid in the program's success. I am just so grateful I was given the opportunity to coach and it's truly my passion.