Coach Mohr – Boys Basketball
June 6, 2023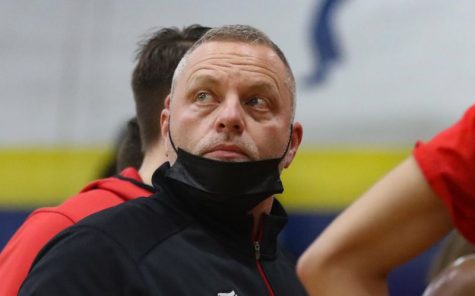 Head Coach Mr. Charles Mohr has become the winningest coach of the boys basketball team. This winter, the team finished with a record of 8–14, and 7–7 in the Greater Middlesex Conference (GMC).
 The Eagle's Eye requested Mohr's thoughts on his newfound record.
EE: How long have you been coaching for, and what got you into it?
CM: I've been the Boys' Head Coach at EHS since 2003–04. Before that I coached at Rahway HS and Middlesex County College. I played basketball in high school and college and I've always loved the game. I had some great coaches that had a positive impact on my life and I wanted to do the same for others.
EE: What were some important experiences you have had as a coach, and how do you feel about becoming the winningest one?
CM: I enjoy seeing the progress a team makes starting in the summer and throughout the season. All coaches want to win games, but there is a lot more to coaching than that. Team sports are a great way for students to have success, face adversity and learn how to deal with both. There are many life lessons we can learn by being a part of a team. I must say one of my favorite parts of coaching is when former players come back to EHS and tell me they are doing well in school, jobs, life, etc. 
I am very proud to be the winningest boys' basketball coach at Edison High School. There are many people who played a part in this accomplishment, everyone who has coached with me, all of the players, the administration and my family. I feel very fortunate to be a part of the Edison High School community.
EE: What have been some difficulties throughout your coaching tenure, and how have you overcome them?
CM: Some of the difficulties have been: rebuilding the team the year after a senior heavy team, playing a tough schedule, having to practice late because of lack of gym space. These difficulties are a part of coaching and I have had great people coach with me to work through these issues.
EE: How do you plan to continue this positive trajectory for yourself and the team?
CM: The way the program stays on this positive trajectory is through hard work. We have summer workouts and we participate in a summer league. In the fall, we have strength and conditioning workouts. During the season we have practice three days a week and we play three games per week, so we are together a lot. This helps us to build our team culture.