Coach Fulham – Football
June 6, 2023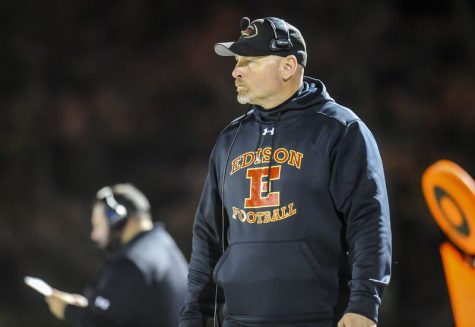 Outgoing Head Coach Mr. Matthew Fulham has become the winningest football coach after a long career at Edison High. This year, the team had a season record of 9–4, and defeated Lenape to win a sectional title for the first time since 1991.
The Eagle's Eye interviewed Fulham about his accomplished career at Edison High.
EE: How long have you been coaching for, and what got you into it?
MF: I have been coaching high football for 30 years; 23 years here at Edison HS. Five years as an assistant coach and 18 years as the head coach. I started playing football in high school and then continued to play in college. I absolutely loved everything about the sport and knew I wanted to coach when I was finished playing. 
EE: What were some important experiences you have had as a coach, and how do you feel about becoming the winningest one?
MF: The best experience was winning the Central Jersey Group V State Championship this season. It is the schools first title since 1991. I am so proud of our team and coaching staff. They really worked so hard and dedicated a lot of their time in order to be successful. I would also like to thank Mr. Ross and the entire administration for their support over the years. They were also a big reason for the success our program has had over the years.
Another important experience that I am proud of is Edison High School now holds the All Time Rivalry record vs JP Stevens. When I became the head coach in 2005, JP was way ahead in the rivalry. It was one of my goals to change that record. EHS has currently won fifteen of the last eighteen years including the last nine years in a row. We have dominated JP Stevens and currently own the All Time Season Rivalry 27–26–4.
EE: What have been some difficulties throughout your coaching tenure, and how have you overcome them?
MF: The biggest difficulty throughout the years has been trying to balance the time needed to prepare a football team for success and the time needed for family and a full teaching schedule. Being a head football coach is a 365 day a year job. The time demands in season are extensive and sometimes mentally and physically challenging. During the off season and summer, monitoring player academics and behavior, college preparation, strength and conditioning training, practice, staff development, fundraising, planning team activities, evaluation and implementation of proper football fundamentals and techniques, require a tremendous amount of time, preparation, and planning. 
EE: How do you plan to continue this positive trajectory for yourself and the team?
MF: The future of our program looks strong. The entire coaching staff will return and Matt Yascko is now the head coach. He is knowledgeable and experienced to lead our program. Our coaching staff is the best in Middlesex County. We return an experienced and talented group of seniors that hopefully set a positive example for our younger players to continue our culture of success.