Edison Defeats Lenape in Sectional Finals
Eagles Win First Football Sectional Championship Since 1991
Edison defeated Lenape with a score of 28–14 on Veterans Day, winning its first sectional title since 1991 and third in its history. Quarterback Mathew "Matt" Yascko '23 threw for 65 yards and a touchdown while rushing for 172 yards and two touchdowns, Nyekir Eato '25 rushed for 17 yards and a touchdown, and the defense held a top-seeded Lenape offense to only two scores in the win.
"It's one of the biggest wins in our school's history," said Head Coach Mr. Matthew Fulham. "I'm really proud of our team and our coaches and everything. It was just an outstanding effort tonight."
Both Edison and Lenape played at full strength on Friday. The two teams had not previously played each other nor had any common opponents this season.
Edison began the first quarter by kicking off to Lenape, which had won the coin toss. On their first drive, the Indians ran multiple short running plays before fumbling on second and five, recovering,and losing two yards. Only two plays later, the team was forced to punt, downing the ball at the Edison 36-yard-line to begin the Eagles' first offensive possession.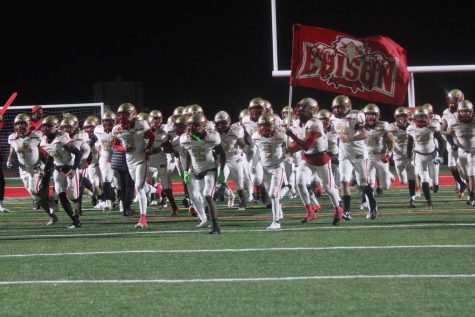 Edison's offense got off to a quick start with a pair of short completions for a first down and Yascko's 36-yard run to the Lenape 18-yard-line. Two plays later, Eato found the end zone from 14 yards out. An extra point attempt by Kicker Selbin Sabio '23 was good, putting Edison in the lead by a touchdown with six minutes and thirty seconds to play in the quarter. 
Lenape began their next drive at their own 20-yard-line after letting Edison's kickoff sail for a touchback. The Indians' offense, not able to establish a potent passing attack on their first drive, favored the run during their second, running five consecutive handoff and direct snap plays before losing yardage on a short pass play on their third set of downs. Unable to make up the yardage for a first down, the Indians elected to punt on fourth and four, downing their punt at Edison's 31-yard-line with one minute and 43 seconds left in the first quarter. Yascko's strong 16-yard run on second and ten brought Edison to midfield, but the team still found itself facing a fourth and twelve before the close of the quarter. 
Edison's strong start quickly turned into disaster at the start of the second quarter, when a punt attempt on fourth down turned into a punt block for Lenape's special teams unit. Operating from Edison's 33-yard line, the Indians failed to convert on two pass attempts and lost yardage on a running attempt before settling for a 47-yard field goal, which turned into an Edison takeaway when the Lenape holder was unable to handle the long snap. 
"
It just was a real good community win, and we're proud."
— Principal Mr. Charles Ross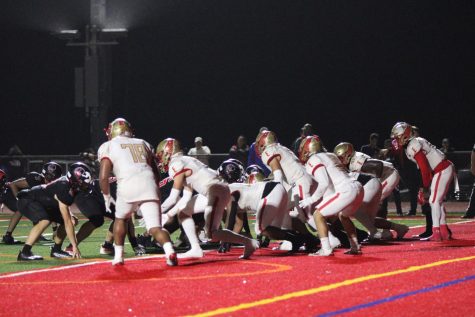 Finding itself at midfield again, Edison ran a series of short run and pass plays, gaining fifteen-plus yards on some alone, to move into Lenape's red zone territory in less than three minutes. Yascko's carry for no gain on first and goal was followed by a successful five-yard second attempt, putting Edison up by two scores with five minutes and 47 seconds remaining in the half. Sabio's extra point try was no good, keeping the score 13–0, in favor of Edison.
Lenape returned Edison's ensuing kickoff to their own 43-yard line, but was only able to gain two yards on three plays before settling to punt—a punt that was blocked and recovered by Edison's special teams unit at the Indians' 25-yard-line. Malcolm Stansbury '23 ran for no gain on first and ten, which quickly turned into a first and twenty after an offensive hold, and a second and thirty after a ten-yard loss on a sack. Yascko's five-yard rush and an intricate lateral play brought Edison to a fourth and seven with a minute and 39 seconds remaining in the quarter; the ensuing pass attempt sailed incomplete, returning the ball to the Lenape offense at their own 23-yard line. 
After a false start and a loss on a quarterback run, however, the Indians found themselves facing third and 17, and next a fourth and 17 after being stopped at the line of scrimmage by Edison's defensive line. The ensuing punt fake was a disaster, as Lenape's Ethan Blackburn '25 fielded a high direct snap before being flattened by Edison's special teams for a loss—the third such turnover of the night. In the next play, Yascko found Stansbury for a five-yard touchdown strike down the middle. Sabio's extra point was good, making the score 20–0 at the close of the half. 
Edison fielded Lenape's kickoff to begin the second half of the game. Operating from their own 20-yard line, Edison's offense was able to "move the chains" on a strong first-down run before finding themselves looking at a third and fourteen following two holding and illegal motion penalties. Lenape's offense found itself in a similar position, unable to gain much yardage on three pass attempts before settling for a punt—a high, short punt that bounced all the way to Edison's 16-yard line. Edison ran a single play for two yards and a second catch-and-run for 21, but lost possession of the football on first and ten after Lenape's Austin Long '24 recovered a fumble at the 37-yard line. 
The Indians' offensive possession was a quick three-and-out featuring an incompletion and two straight sacks, but a botched punt reception and subsequent Lenape recovery brought the team to Edison's 15-yard line with five minutes left in the third quarter. Four rushing plays and a first down later, Lenape found its way into the endzone on a one-yard run. Blackburn's successful extra point conversion made the score 20–7 with two minutes and 19 seconds to play in the quarter. On their next offensive possession, the Eagles' offense started strong with Yascko's 18-yard run but was unable to gain the required yardage for a second first down. The team punted to Lenape's 43-yard line to end the quarter. 
The Indians began their drive with a series of short runs and passes, converting on two third down rushing and passing attempts to keep their drive going. Lenape furthered its way into Edison territory over the course of two minutes before reaching the red zone with ten minutes remaining in the game. Converting a third and one but struggling to reach the end zone from the ten-yard line, the Indians finally reached the end zone on a seven-yard fourth-and-goal touchdown pass from quarterback Jaelin Mims '25 to receiver Zyaire Goffney-Fleming '23, and cut Edison's lead to only six points after their successful extra point try. 
"
Winning the state championship and going to hug my father, you know, it doesn't get any better than that."
— Mathew Yascko '23
Edison fielded the Indians' kickoff to their own 26-yard line to begin their critical drive. Yascko kept the ball for a seven yard pickup before releasing on a major 44-yard run to the Lenape 20-yard line. The team would pick up nine more yards on Eato's two short runs before Yascko punched in another rushing touchdown from the 11-yard line. Now leading by two scores, Edison's coaches elected to attempt a two-point conversion in order to extend the team's lead to two touchdowns and successful extra point conversions. Yascko successfully found receiver Michael Strachan '23 in the endzone, making the score 28–14 with only four minutes remaining to play.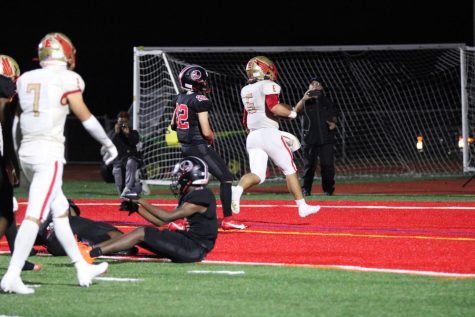 Lenape would have to score a touchdown and either stop a successful Edison offense or recover an onside kick to stage a potential come-from-behind victory. The offense struggled to gain passing yardage, finding itself facing a must-convert fourth and seven, but managed to convert on a short pass play. On the next set of downs, the Eagles' defense tackled quarterback Mims for a loss twice—once for three yards in the backfield, and another for a collective ten-yard sack on third and thirteen. On fourth and 23, with the game on the line, Mims found a receiver for a 21-yard gain—two yards shy of the first down marker. With the objective now to protect the ball and drain playing time, Yascko ran for eight yards before running again for a first down to ice the game. Yascko took a knee on the final play of the game, a first and ten with 45 seconds remaining, to secure Edison's victory against the top-seeded Indians—the Eagles' first sectional title since 1991. 
Edison's team and fans were ecstatic following the win.
"Winning the state championship and going to hug my father, you know, it doesn't get any better than that," Yascko told former East Brunswick football Head Coach Mr. Marcus A. Borden. 
"You know, I felt the team came together, they worked so hard in the first half to build a big lead, and then in the fourth quarter and the second half they bent but they would not break," said Principal Mr. Charles Ross. "And Matt Yascko put the team on his back, took us down the field again like he's done the last two playoff games, and just helped us clinch that win and go out on top."
"And I thought the fans were great," added Ross. "Everybody took the long ride down. We filled up a fan bus, and there were so many other fans there and the band and cheer. It just was a real good community win, and we're proud." 
The returning Eagles were greeted by a police and fire department escort beginning at the Honda dealership on Route 1. At the school parking lot, fans cheered and made noise with cans. There was also a fireworks display nearby the school. 
"Not only is it a win for the team and the school, it really is a win for all of the alums who have been waiting 31 years and really, the South Side," said Athletic Director Mr. Dave Sandaal '90. "As an alum, it's actually a little bit extra special for me." 
"What a way to bring the south side of the town together."
Edison will move on to the state semifinals to play Toms River North on neutral ground at Cherokee High School on Saturday, November 19, at 5:30 p.m, in Marlton. The winner will move on to Rutgers to play the winner of the Passaic Tech versus West Orange game for the state championship. 
Edison High will organize another fan bus to take students to the game. If enough students sign up, the school may also use a second bus. Edison has been designated the home team, and fans are encouraged to wear red. Tickets will be on sale from NJSIAA starting at 9 a.m. on Tuesday.
Game statistics are available from NJ.com. 
The Edison High Film Club has photos available in its album.