Eddie Lin: The Big-Hearted Balloon Believer
The world is grappling with an invisible, deadly enemy: the novel coronavirus. People have been quarantined for months in the hopes of protecting themselves and their loved ones from the virus and the threat it possesses. Beneath the silence of our society lays unbidden fear, fret, and franticness. While some of us have succumbed to the melancholy and taken to lying in our houses, staring at our walls, many others are ready to spark hope during these woeful times through their various talents.
One such creative artist is Eddie Lin '18, a 22-year-old Edison High School alumni with autism. At a young age, Lin developed a fascination for balloons. He loved playing with them and found them joyful and fun. 
Soon, Lin took his love for balloons to a greater level. Using online tutorials, he learned to create intricate balloon sculptures as a form of art. He managed to turn his skills into a business: Ausome Balloon Creator. According to EHS alumn Kay Mastrocola '16, "the spelling of 'Ausome' is intentional. It's a play on words to highlight what makes Eddie unique — his autism!" Mastrocola is Lin's long-time friend and Director of Creativity at Ausome Balloon Creator.
Once quarantine started, Lin decided to use his skills for a supportive cause. Lin's friend asked him to make a sculpture for his mom, a shop manager who was going through tough times due to the virus. Lin's balloons proved to be effective in brightening her up and making her smile. Seeing the wonderful response, Lin decided to reach and help others in his community. Pretty soon, he began making beautiful sculptures from colorful balloons to cheer up first responders as they worked during the spread of Covid-19. From nurses and high school graduates to soldiers and veterans, Lin's sculptures succeeded in spreading happiness to many different families affected by this grave situation.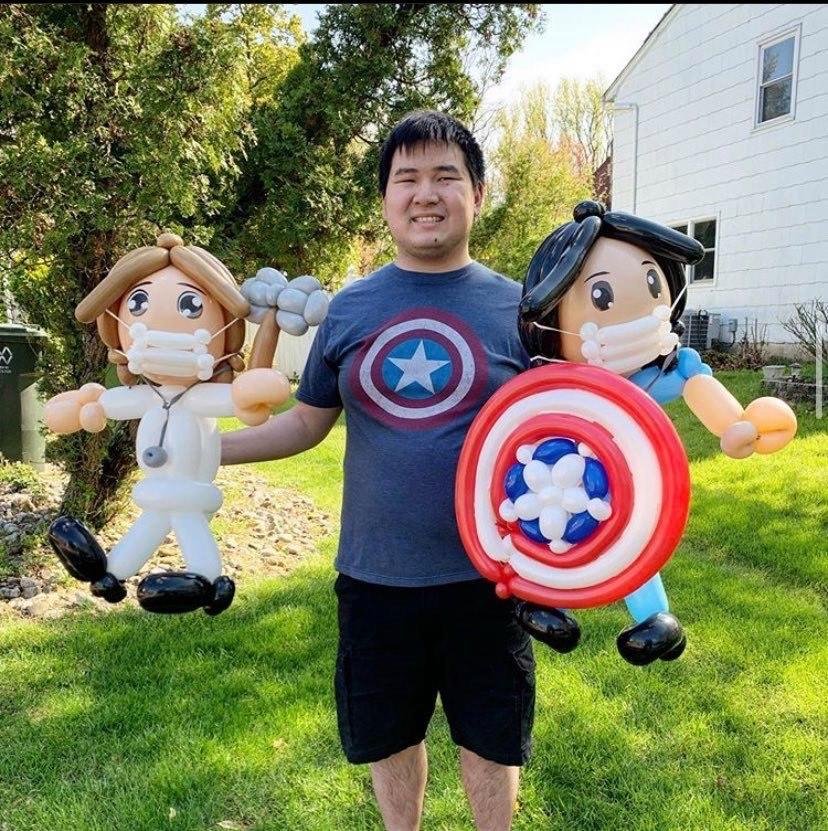 Lin displays the fabulous and intricate balloon sculptures both on his Facebook page and on Instagram, @ausomeballooncreator. Both are full of bright and colorful creations ranging from party centerpieces and flower bouquets to movie characters and graduation displays.
Lin also helps sponsor the Dominick Patrick Bottone, Sr., Memorial Scholarship. This award is given to "an EHS senior who exemplifies kindness in all acts of life and is pursuing a career in special needs education, physical therapy, or occupational therapy," said Mastrocola. This year's recipient was Jessica Abney '20.