A Call from Eagles Out of the Nest: Sandeep Ramesh
Not every Edison High alum can boast that their work has been seen on national television. An avid photographer and athlete, Sandeep Ramesh '19 can boast away. Now a junior double majoring in mathematics and computer science at the Maryland Honors College, this former Eagle has also run a photography side-business since his sophomore year of high school.
The Eagle's Eye reached out to Ramesh for a virtual chat on his unique experiences as a STEM student with an interest in the arts and as a college student during the COVID-19 pandemic.
EE: How do you think EHS prepared you for the college experience, specifically your major?
SR: In terms of achieving a proper general education, Edison High, the Edison school district, and just New Jersey in general does really well. Forcing us into specific electives, meeting different graduation requirements are pretty crucial to start general development for going to college. When you do go to college, your classes, besides your gen eds, they still become very career-focused and tunneled into a single field, so you lose touch with the grand scheme of things, maybe you lose touch with the arts.
Having taken up to calculus II, Ramesh felt that his math experience in high school was definitely beneficial as it allowed him to skip to second level classes. In terms of computer science, despite the school only offering AP Computer Science A and AP Computer Science Principles, he found the problem-solving skills acquired in those classes useful.
SR: Just in terms of general rigor, especially being in STEM, we had opportunities to take classes that were challenging intellectually and a hard workload. I think at the end of the day it also just comes down to what you made of it. If you went out of your way, did the best in your classes, participated in sports, extracurriculars, and whatnot, you acquired certain skills while other students who didn't do those activities did not.
As a key player on the volleyball, soccer, and track teams, president of Model UN, and founder of Film Club, Ramesh dedicated equal time to school clubs and academics.
EE: How did you balance your hobbies and extracurricular activities with school work?
SR: Besides time, it wasn't really a burden on me. These were all things that I thoroughly enjoyed, so even though in the moment, maybe I was struggling, maybe I had to make a presentation for Model UN, it was still fun. Just the frame of mind just helped motivate me.
EE: How did you start your hobby of photography in high school and how did it impact your interests and development as a person?
SR: Photography was quite crucial to my development as a person. Having motivation to do photography just allowed me to tap into my creative side a lot more. The way that it started was in sophomore year of high school, my friend Edmund and I were really into cameras and we thought 'Hey, the school doesn't have anything to do with photography besides Mr. Bauer's photography class.' We took it upon ourselves to launch a club with the two of us and about 3 or 4 other kids.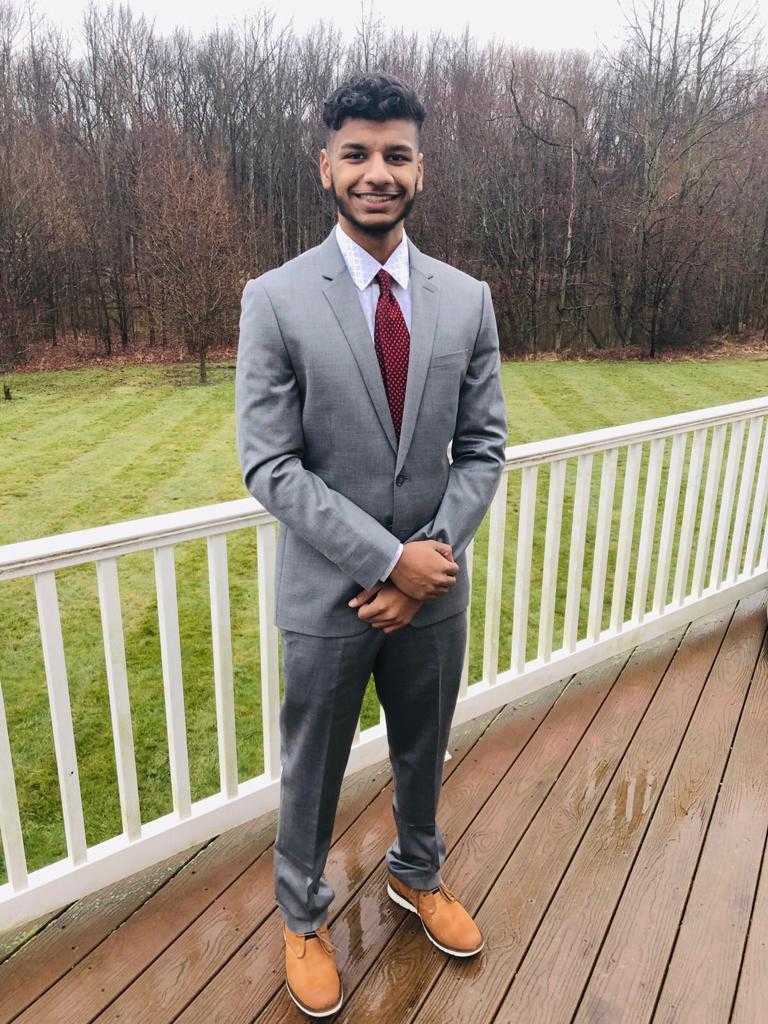 After obtaining approval to establish a photography club at EHS with Mr. Jeffrey Bauer as the advisor, the small club started by taking photos for the soccer team. However, it quickly grew, thanks to the passion and effort of its members.
SR: From there, we started to scale up the club, added a few new members—20 by the time I graduated—we spoke to both of the class council advisors in my sophomore year and we got them to let us cover prom, and that saved them money. Our first prom video from 2018 actually is at 78,000 views on Youtube right now, so that's a bit insane. We never expected it to go that high.
EE: How did you elevate your hobby, growing it into a full-fledged business?
SR: Sophomore year obviously is sweet sixteen year. Everyone in your grade has a sweet and is paying a couple thousand dollars to a professional photographer. Since we were semi-pro, we decided to charge the bare minimum price of $300 for some events. A couple of my friends had sweets. We got our foot in the door, got a couple easy jobs. Eventually it grew from sweet sixteens and we just began exploring more; I would say the payment and the business came as an unnecessary byproduct, an added benefit.
Despite moving to college across the country from his friend and the limitations of COVID-19, their photography business is still running (safely).
SR: About 2 months ago, we just finished up a COVID wedding, which was pretty interesting. I would say the highlight of all of this was when the actress for the main character, Donna Meagle, in Parks and Recreation, who is from New Jersey, hired us to do her parents' 50th wedding anniversary. It was a really big event, and it's still crazy to me that we ended up getting the job.
The photos that Ramesh took for the event then appeared on the Kelly Clarkson Show as part of an interview about her parents' wedding anniversary.
Examples of his photography can be accessed on his website: sandeepramesh.co/.
Although he does not plan to pursue photography as his sole career, considering that software engineering offers more job stability, Ramesh plans to continue freelancing in the future.
EE: What types of courses relevant to your field have you taken so far?
SR: In general, I have just done the basic comp sci math courses, and I'm also in the entrepreneurship and innovation honors program, so I've done my entrepreneurship courses.
EE: What types of experiences and opportunities, such as internships, projects, or studying abroad, have been most beneficial to you in your college career? What do you look forward to learning/doing in the future?
SR: I haven't studied abroad yet; especially with corona, I couldn't really do much. I do plan on studying abroad though; I really love European culture, so I would love to go back there, either to London or Germany. In terms of opportunities, I've done a bunch of hackathons, which I've attended with my friends. We went to Cornell, driven to John Hopkins, and down to either University of Virginia or Virginia Tech. But, before COVID cancelled everything, we were supposed to fly out to California, for the one at CalTech. Hackathons were a really fun experience for me and my friends, and it's sad, it kinda sucks that everything is virtual now. It's not as fun in a virtual environment.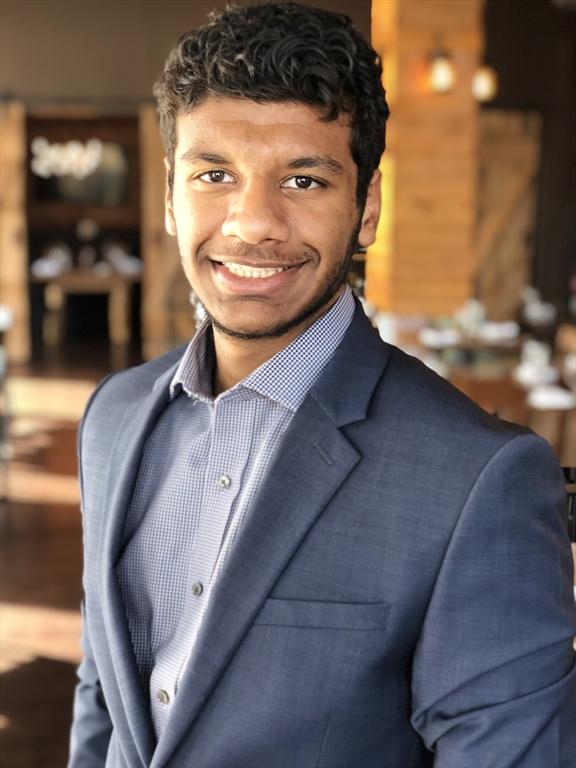 Currently, Ramesh is studying remotely from home during the COVID-19 pandemic.
EE: Considering your track now, reflecting back a little, if you could go back to freshman year of high school, is there anything you would change?
SR: I've always just been, "How do I fill up my plate?", and even when my plate's full, I think I'm not doing anything. I just really would've liked to have taken a step back and taken the less stressful approach, where I was only actually doing things that I thoroughly enjoyed, rather than things that look good for colleges and Ivies. I wish I'd had the perspective that "You're going to end up where you're meant to be regardless."
Preferring to chart his own path rather than follow the traditional route for academically inclined students, he advocates for doing what you love rather than competing with others.
SR: I would just say sleeping more. I would literally sleep from 4 am to 7 am; I was lucky I lived just 5 minutes from the high school. It was bad. I wish I'd had better time management and stressed less.
EE: What do you think was the hardest part of the college application process? How did you choose to attend Maryland Honors College?
SR: People get really really caught up in the Ivy League, top 10, top 20, US News rankings and they lose touch of the fact that you're going to spend 4 years somewhere, and you want to make sure it's somewhere you enjoy. For me, I personally applied to Harvard and… that was it in terms of Ivies. And that was literally jokingly. I knew it wasn't going to choose me, and their application wasn't that hard. Ivies have this prestigious name, but in terms of financials and atmosphere, it didn't seem like the place I wanted to be in, which is kind of crazy coming from a guy who had been in STEM, taken APs, and been in a "nerd environment." I wanted to be in a more balanced environment, so a lot of the Ivies were off the table for me. I only applied to 14 colleges.
After applying to a grand total of 14 colleges and narrowing down the choice to 3, in the end Ramesh chose Maryland because it was a decent distance from home, allowing him independence while ensuring greater flexibility for moving and traveling home. The college also had a fine computer science program, matching his planned career path.
When doing college searches, he suggested some self-reflection in considering the location (rural vs. urban), especially for someone from Edison, where all destinations are within a mile's travel, the environment (sports vs. academics), depending on one's interests, and, of course, distance from home.
SR: Know yourself. Know where you see yourself. Don't apply just for the sake of applying.
Echoing Mr. Partick McCaffrey's practical wisdom from AP Language and Composition, he reflects on the competitive nature of high school and the need for perspective.
SR: Go to a college where you're not going to be in the smartest 1% but also not going to be in the bottom 1%. Make sure you're in the middle, the middle 25% chunk because you want to be able to look up and see people you want to work towards but you also want to be able to look down and see people you don't want to be like, you want to be better than them. As soon as you go to college, you'll realize that the guy that sat next to you in comp sci already started his own business, is freelancing, made 5-figures in high school doing random comp sci work. You thought you were the smartest kid just because you got a 5 on your AP comp sci exam. It really gives you perspective.
EE: What would be your main piece of advice to current high schoolers?
SR: Mrs. Frey always told me this: Don't spread yourself too thin, and learn the ability to say no.