From Tweet to Author's Meet
"Read more than anyone you know." As cliche as the adage seems, this "life hack" created a new perspective for the students of Mrs. Jacqueline Pelliccio's College Composition and Literature class, thanks to writer and former New York Times columnist, Anand Giridharadas. Not only were students able to meet and discuss with Giridharas, but Pelliccio also introduced them to investigative journalist Michael Moss. 
In October of 2018, Pelliccio posted a tweet about a student's comical reaction to Moss's article. "They mentioned reprimanding their peer for eating Lunchables–a big deal in the article," said Pelliccio. 
She did not expect the notification that would soon appear: a post indicating that Moss liked her tweet. Little did she know that two years later, after another one of Pelliccio's tweets regarding her appreciation for Giridharadas' article, "The Critic and the Thought Leader," he would offer to join a Zoom call with her class.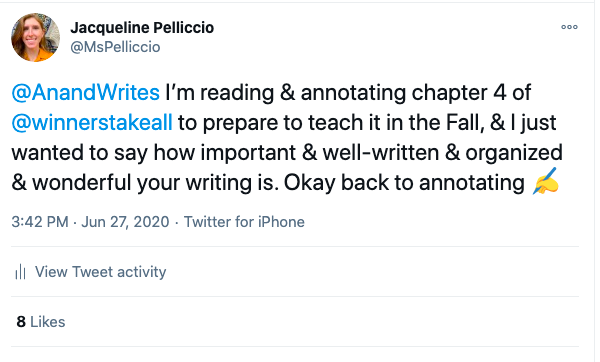 Having already delved into their nonfiction texts, students began preparing to meet the men behind the words. They prepared questions about science and choice for Moss and compromise and personal values for Giridharadas. Both authors expressed their passion for writing, which became an inspiring commonality between the students and guests; another level of appreciation for writing surfaced, and inner authors began to emerge. 
"It was also helpful to hear the authors share about their writing processes and experiences because what we ask the students to do in class, Moss and Giridharadas do for a living," said Pelliccio. 
Giridharadas encouraged students to explore and dig deeper into evidence, allowing it to guide the birth of a claim. Emphasizing the significance of reading in this process, Giridharadas' call to action sent a powerful message to the students. One of these students, Rishab Gera '21, shared that his favorite part of Giridhardas' meet and greet was when the author used his own high school experiences to motivate students to pursue their aspirations.
"He mentioned how even though he may not have been the brightest student, he was a hard worker who was able to pursue his passions despite what other people said. It really makes you want to follow your dreams!" said Gera.
During Moss's visit, he stressed how a majority of the impact from a student's writing comes from their own reactions and interpretations. "[He] made real the words we read on the page, and he seemed equally as inspired by students' questions and comments," said Pelliccio about his relatable stories and amiable personality.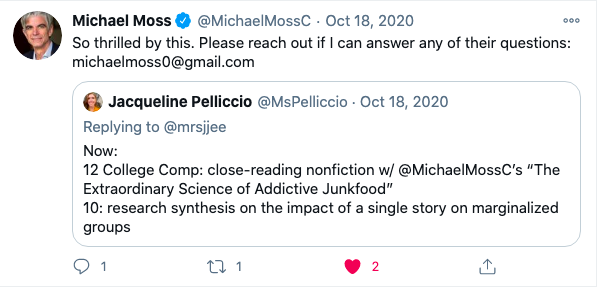 Questions from students created conversations between the authors and the class. As students heard how the authors' ideas came to life, they were encouraged to explore clarity in their own ideas. "Meeting the person who wrote the words you're reading in class makes the words more real," said Pelliccio. 
Many of her students felt the same way and shared that it was one of the most exciting experiences they have had. Gera shares that he saw this experience as an opportunity to explore clarifications and truth through this new and valuable resource: the author, in-person. Students gained an appreciation for Giridhardas' display of knowledge about his book and the world around him. Throughout the lively conversations that consisted of rebuttals and questions, Giridharadas intelligently used current events to guide the discussions. His adage turned into a call "to better cultivate our intellectual curiosities," said Gera.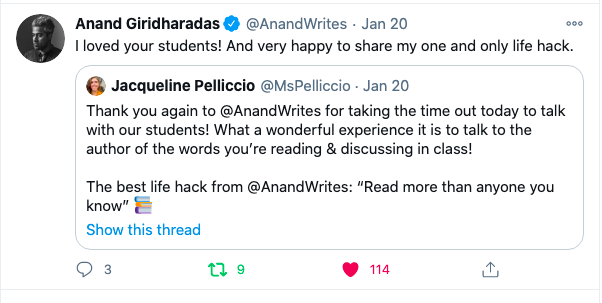 Pelliccio recommends author visits to other classrooms, observing how these visits introduced her students to a new perspective with words. Pelliccio expressed her gratitude for the visit, as it added more magic to reading. Beyond the scope of their notable books, Giridharadas and Moss' keenness to reach out and become an insightful resource for students made the experience that much more impactful. "I did not expect nor demand that they freely offer their time to talk to our students, and I am so grateful that they chose to spend their time with us," said Pelliccio.
Students felt that meeting writers influenced their own work and ways of thinking.  "[My favorite part] was speaking to Moss and learning about his writing process and how he was so kind when it came to answering our questions," said Melodi Wheeler '22.  The writers answered students' inquiries and had flowing conversations with them, which incentivized many students to expand their ideas.  Wheeler also shares her teacher's recommendation of authors' visits as she said that her "classmates benefited from this experience because we were able to explore our ideas with professional writers." 
"Twitter for the win," said Pelliccio.