The Fall Play, Father of the Bride
"Your pants!" … laughter rang out through the auditorium and the stage manager Erveena Lim '21 pulled the curtains shut. The house lights flickered on, and the audience tittered in excitement towards the second half of the show. This year's fall show, Father of the Bride, was directed by the theatre director Maureen O'Connor with help from student director Kylee Turzani '21. The show, a story about a father's bittersweet determination to start his beloved daughter off on the path to marital bliss, was performed on  October 10, 11, 12, and 19, after months of hard work and careful deliberation by both cast and crew (listed below).
Students Lucy Knox '20, Pat Debnath '20, Nevada Pidgeon '21, and Marcello Leone '22, were leads in the play, and the production team, Serena Klein '20, Cecilia Knox '20, Mohamad Fiyaz '20, and Katie Mastrocola '22 helped the show run smoothly. Each night, students, friends, faculty, and parents attended the shows, and over three hundred thirty tickets were sold, netting over $3,264.20 for the Theatre Department.
These numbers are a huge improvement from the last recorded fall play, which earned $265.05 in total and only sold 68 tickets over two nights. This vast increase in sales from approximately five years ago can be attributed to theatergoers who were impressed by the show and brought children, friends, and family to see it. Mr. Christopher McKnight, a faculty member who attended the show with his wife, said, "the dedication from the cast and crew shined through to the final product." Other students who attended the show named their love for the acting and storyline.
All in all, the fall show, Father of the Bride, was a successful production that demonstrated "What's Great about Edison High!"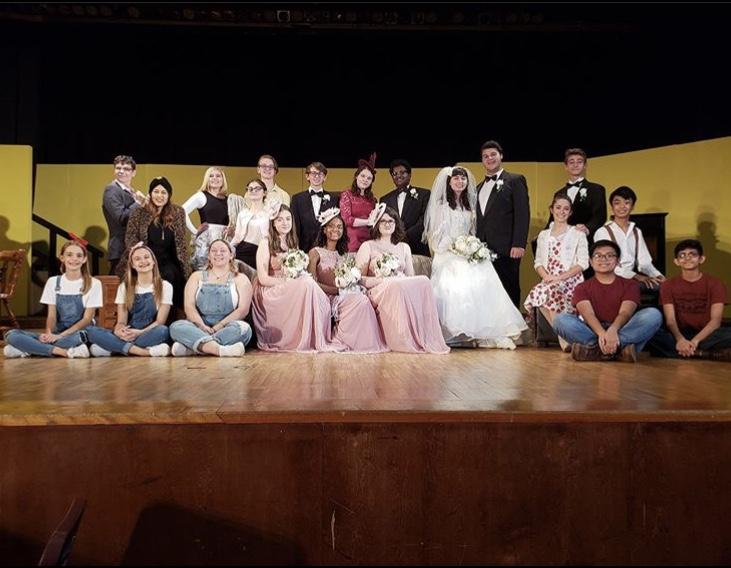 ---
Full Cast List
Mr. Banks                                      Pat Debnath '20
Mrs. Banks                                       Lucy Knox '20
Kay Banks                               Nevada Pidgeon '21
Ben Banks                           Nathan Witkowski '21
Tommy Banks                      Matthew Sudnick '22
Buckley Dunstan                   Marcello Leone '22
Buzz Taylor                            Matthew Hofstra '22
Peggy Swift                             Olivia Chiarella '21
Delilah                                     Melodi Wheeler '21
Miss. Bellamy                           Hannah Martin '21
Mr. Massoula (10/10 to 10/12)    Justin Burrell '20
Mr. Massoula (10/19)                   Garid Garcia '22
Joe                                                  Dhruv Patel '21
Red                                           Paul Fernandez '21
Pete                                         Matthew Silvero '22
Mrs. Pulitzki                         Jazmrie Gutierrez '20
Tara                                        Hannah Steinlauf '22
Ensemble                                    Danielle Dick '20
Ensemble                                      Lauren Dick '22
Ensemble                                Maggie Mannon '22
Ensemble                                        Paris White '22
Director                            Ms. Maureen O'Connor
Student Director/Ensemble       Kylee Turzani '21
Set Director                                 Mr. John Scimone
Scenic Designer                  Ms. Roseanna Scinome
Stage Manager                              Erveena Lim '21
Property Manager                         Serena Klein '20
Property Manager                  Katie Mastrocola '22
Lighting Technician                      Cecilia Knox '20
Sound Technician                    Mohamed Fiyaz '20
Stage Crew                                     Sia Chokshi '21
Stage Crew                                    Tyler Dalton '21
Stage Crew                                Erkabay Girma '23
Stage Crew                               Madison Goode '20
Stage Crew                                Landon Posner '22
Stage Crew                         Christopher Stracci '21