Calling All "Guys and Dolls"; Theatre Department Holds Auditions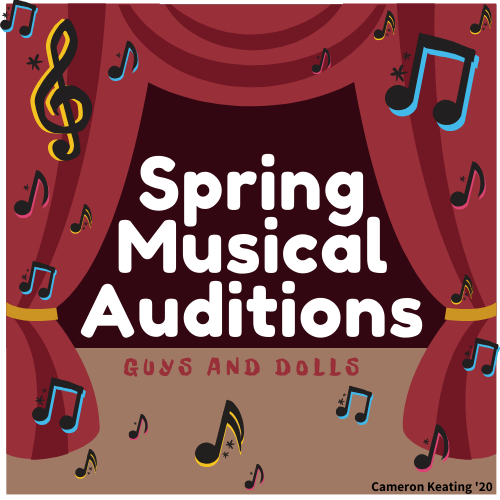 For a few days each December, the auditorium is a flurry of excitement and anticipation for those hoping to be a part of something special–the spring musical. This year, the EHS Theatre Department is proud to present Guys and Dolls! According to the director, Mrs. Maureen O'Connor, also the theatre teacher, this show is "silly, fun, big, bright." In the show, New York gambler, Nathan Detroit, must raise money through an illegal craps game in order to marry his long-time fiance Adelaide, and win a bet against his friend, Sky Masterson, who is also trying to ask out Sarah Brown, a missionary, on a date to… Havana, Cuba! 
The Eagle's Eye had the opportunity to speak to Mrs. O'Connor during auditions to ask about the audition process and her connection to this show.
EE: "Why did you choose this show?"
MO: "So, Guys and Dolls was the very first show I ever did. I auditioned for it when I was twelve and still in middle school and I was fortunate enough to get cast as a leading role. And from that point on, I was in love with theatre and that's really where the whole thing started. That's where I got accustomed to what theatre in schools is like, and how great programs in schools are for students. And so, I wanted to relive the happy moments that I had during that experience. But also, to me, it is the quintessential great American musical. It has great characters, it has great numbers. The show premiered 70 years ago and still is considered a classic, and the script holds up, it's still funny, still sweet, people still care about it. Being from New Jersey and always going to see shows, I also like it because it's a love letter to Broadway, it takes place in New York and everybody is bright and bubbly, and so I thought that this would be a good show for the people that we have and for the community to see."
This year, the Theatre Department is also entering the musical in a statewide contest called The Rising Star Awards, hosted by the Paper Mill Playhouse in Millburn, NJ. For over 20 years, this program, modeled after Broadway's Tony Awards, has honored and celebrated achievements in high school theatre programs. 
EE: "Why apply to the Rising Star Awards?"
MO: "So, when I first got here, the students were very against doing the Rising Star Awards because they wanted to keep it something fun they could do after school and they didn't want it to be a competition. But now that I've been here, this is my fifth year as Theatre Department director, I've found that our talent has grown but also our program has grown. I wanted to give students the opportunity to decide whether or not they wanted to compete and the students overwhelmingly decided that they wanted to. I feel like we're a school that prides ourselves in doing the best that we can and so why not challenge ourselves and see how we can compete with other schools in the area. It's also a good idea to get feedback from somebody other than your director because a lot of these kids might want to try this in the professional world so it's a good idea to get a couple of glimpses, and not just from parents and friends and myself."
Having been on both sides of the audition spectrum, Ms. O'Connor shared her insight about the difference in the audition process, being the person who ultimately creates the cast list. 
EE: "What is the audition process like for you?"
MO: "The audition process is actually my least favorite part of my job because I know that it means hurt feelings, it means kids are going to get cut, but for me what I do is first I think about the show and then I say, 'Okay, if I had a Broadway budget and I could cast any actor, who would it be?' and then that helps me decide who I should choose based on what I see in the dancing, the acting, the whole nine yards. I'm looking to see, also, who works well together, who has good chemistry, who I think is responsible enough to learn the lines and come to rehearsals and have maybe 40 people or more depend on them throughout the show. I'm also curious to see everybody's maturity level, how they audition, not just on the stage but with each other while they're waiting in the hallway or while they're waiting for an audition to start, how they treat the stage manager. But when it comes down to actually posting the cast list I do get a little emotional because I know what it's like to be on the other end of that."
The audition process, a three-part affair, tests students ability to sing a song from the show, perform a dance combination learned the day of the audition, and if the student is called back for a specific role(s), read a small portion of the script with other auditioners, to assess chemistry. The Eagle's Eye also spoke with two students, Colleen Tonra '21 and Christian Lee '23, about their audition experiences. Tonra has been a part of the Theatre Department for three years and has had leading roles in the past two musicals, Bye Bye, Birdie and Curtains. Lee has recently decided to join the Theatre Department after taking an interest in theatre class.
EE: "Does the audition process get easier with experience?"
CT: "No, no. I think freshman year was very scary, obviously, you don't really know what you're walking into and you've never met the director and so you're just in front of strangers just doing things that are uncomfortable. So that is nerve-wracking, but I don't think it's gotten necessarily easier. It's just gotten different because I now know the director and I know the people that I'm performing in front of but I still get nervous."
EE: "What was the audition process like for you? How was it different than you expected?"
CL: "The audition process was quite simple and organized, and I liked it very much. The only thing I realized is that I stayed a lot later than I normally would have for an audition at my community theater, but overall, I really enjoyed the experience. I honestly did not expect to get a callback at all. I hope to gain experience in a public school performance because in private school, we did no plays and there were not many opportunities for the arts."
After the extensive three day process that saw about 35 students, Ms. O'Connor released the final cast list, as follows (in order of appearance):
Nicely-Nicely Johnson Garid Garcia '22
Benny Southstreet Christian Lee '23
Rusty Charlie Matthew Silvero '22
Sarah Brown Lauren Dick '22
Abigail Abernathy  Olivia Chiarella '21
Agatha (Mission Singer) Kaeli Knott '22
Calvin (Mission Singer) Justin Burrell '20
Martha (Mission Singer) Elyse Penedos '23
Harry the Horse Matthew Sudnick '22
Lt. Brannigan  Landon Posner '22
Nathan Detroit  Pat Debnath '20
Angie the Ox Gabe Romero '22
Miss Adelaide  Jazmarie Gutierrez '20
Sky Masterson  Nathan Witkowski '21
Joey Biltmore Dhruv Patel '21
Mimi Colleen Tonra '21
General Matilda B. Cartwright  Hannah Martin '21
Big Jule Josiah Ramos '22
Master of Ceremonies  Mohamed Fiyaz '20
Featured Dancer Alex Belem '21
Featured Dancer Brianna Reed '22
Featured Dancer Gabe Romero '22
Featured Dancer Hannah Steinlauf '22
Featured Dancer Colleen Tonra '21
Featured Dancer Melodi Wheeler '21
Guys and Dolls (Ensemble) Anthony DePasquale '20
Guys and Dolls (Ensemble) Jana Elgebrawi '23
Guys and Dolls (Ensemble) Maggie Mannon '22
Guys and Dolls (Ensemble) Robyn Nemeth '23
Guys and Dolls (Ensemble) Janna Smallwood '23
Guys and Dolls (Ensemble) Katilyn Sookoo '23
Guys and Dolls (Ensemble) Gaurung Vasan '23
Guys and Dolls (Ensemble) Makensie Washington '23
Guys and Dolls (Ensemble) Paris White '22
Hope to see you down in Havana on April April 2 at 6:30 p.m., April 3 at 7:00 p.m., and April 4 at 2:00 p.m. and 7:00 p.m.!
Featured Image Artist: Cameron Keating '20