A Call from Eagles Out of the Nest: Abhay Jhala
EHS graduate Abhay Jhala '19 is currently studying finance and business analytics at Drexel University. While at Edison High, he realized his passion for business in a variety of extracurriculars. Today, he hopes to go to law school and start his own law firm.
The Eagle's Eye contacted Jhala for a chat about his experience at Edison High and his inspiring outlook on college.
EE: How do you think the experiences of high school changed you?
AJ: My experiences in high school helped me become more open-minded and outgoing. Being heavily involved in Student Council and extracurriculars helped me realize that there are so many opportunities, but it is up to you to decide which ones to seize. High school has also taught me to put myself out there. In college, no one knows who you are or what you have to offer unless you put yourself out there.
EE: Having served as the Student Council Vice President during his senior year and investing time in StuCo, Jhala realized his interest in student government—in leading and helping others—and became a class representative at Drexel. This leadership role helped Jhala choose his major and life goals.
AJ: My long term goal is to go to law school and eventually create my own law firm. I am currently majoring in finance and business analytics as there is no specific major required for law school. I chose a double major in business for two main reasons: A business major will help me significantly in starting my own law firm, and it is also a great backup as there are many opportunities in the business world. 
EE: Jhala's leadership qualities in group projects has guided his career in college and brought him a myriad of opportunities in the field of finance and business, such as international projects.
EE: What types of projects have you done so far, and what do you look forward to learning/doing in the future?
AJ: I recently completed an 8-week project with students from the Amsterdam University of Applied Sciences. We were a group of 6 students (3 from each university) and we developed a pitch for our own product. We created the SunCycle, a solar-powered bicycle, and we conducted market research to develop a 6-minute pitch video. We considered demographics, sustainability goals, marketing strategies, etc, to create this video.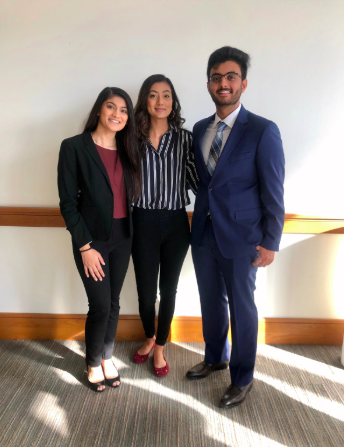 Jhala looks forward to similar projects in the future as the exposure to international business and culture gave him a "global mindset." He plans to spend his spring break abroad to further this education.
AJ: I am going to Amsterdam for my spring break in March. This is a two-week intensive course in which we are collaborating with local businesses to learn about sustainability, marketing, and the operation of a startup.
EE: Jhala looks to learn not only about the culture in Amsterdam but also to be able to apply the business models and ideas he will learn while there to his own future in business in the US.
EE: What would be your main piece of advice to current high schoolers, in general, and specifically for those pursuing careers in business?
AJ: For those pursuing a career in business, I recommend developing interpersonal skills such as leadership, teamwork, communication, etc. These skills are so important in a business career because you are always working with different people and groups. 
AJ: My main piece of advice would be to not stress if you aren't sure what you want to pursue in life. In college, you will have so many opportunities to explore and find your passion. It is okay to apply as undecided and simply wait to declare a major.
Featured Image Artist: Jessica Soohoo '20