EHS Theater Department Makes Comeback with "Arsenic and Old Lace"
After over a year of COVID intermissions, the Edison High School Theatre Department has been busy preparing for their comeback production of Arsenic and Old Lace, which they will perform from October 28 to October 30. Ms. Maureen O'Connor, who has been teaching theater at Edison High School for years, is directing this production. 
Arsenic and Old Lace is a dark comedy about a recently married and level-headed man Mortimer Brewster visiting his eccentric family. During his visit, he discovers some shocking news—his family is even crazier than he imagined. With the burden of his pair of seemingly sweet aunts, troubled brother who believes he is Teddy Roosevelt, and maniac brother, Mortimer's sanity is tested as he tries to keep his family together. 
Many on the cast relished in the refreshing material the dark comedy offered them. "They kill old men out of the kindness of their hearts," said Matthew Sudnick '22, of the two elderly aunts in the play. Sudnick, who played the frantic Mortimer Brewster, also provided insight about the rehearsal process for the play. "We started in September, we had auditions early September and we've been going up until now."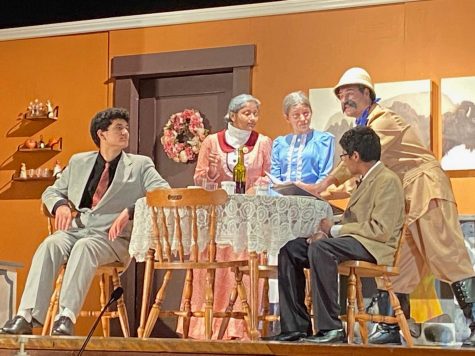 "Most challenging was getting back into the swing of things since we haven't been live on stage in like, a year and a half. So adjusting took a second," Sudnick explained when asked about what was most challenging for him. 
"The content of the show fits so well with Halloween and to take all the crazy energy that we have and to put it into a perfect, funny, dark comedy, scary show is so exciting!" said Elyse Penedos '23, who plays one aunt.
Marcello Leone '22 described his character, Teddy. "He thinks and is convinced that he is Teddy Roosevelt. He reenacts everything he does." 
Krrish Patel '25 and Vincent Pecorella '24, who play Doctor Einstein and Jonathan Brewster, described the friendships they've made backstage and behind the scenes of Arsenic and Old Lace.
"I'm most excited to perform and make new friends here!" Patel said.
"I'm excited about making new friends," said Pecorella, "and showing people what we can do."
Other cast members described the theater department as a tight-knit community who think of each other more as a family, rather than just people sharing a common interest.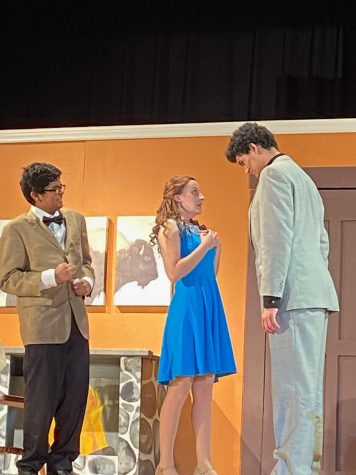 "They will be surprised at how professional and good it looks because I think we are doing a really great job with the set and the play," explained Hannah Steinlauf '22, who plays Elaine Harper, the love interest of Mortimer.