The Fall Pep Rally: Moving Towards Normality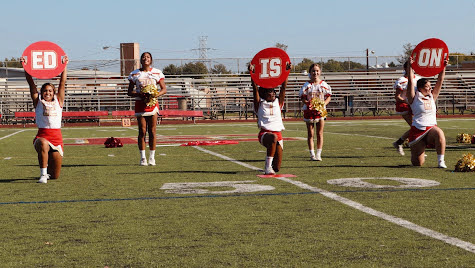 On October 15, Edison High School held its first pep rally since 2019. Held at the Matthew J. Drwal Stadium, students made their way to the red-and-yellow decorated bleachers. With school spirit at an all-time high and a successful fall sports season underway, the students and teachers were ready to celebrate. 
Commencing with Mr. Charles Ross' words and an uproar of excitement from the students, the microphone was handed over to the General Student Council (STUCO). Here the board members expressed their gratitude and enthusiasm for the much-awaited pep rally.  
"​​I enjoyed seeing everyone dressed up for spirit week in their class colors. The school spirit this year is so so so great and I can't wait to see it get even better as the year progresses," said STUCO President Simone Stephen '22.
Performances by the junior varsity and the varsity cheerleading teams, complete with stunting and tumbling, followed.
"One of my favorite parts of the pep rally was the Cheerleaders' performance. Our cheerleaders can hype up any crowd and watching them always puts a smile on my face," said STUCO Vice President Shria Prakash '22.
"
The school spirit this year is so so so great and I can't wait to see it get even better as the year progresses…"
— Simone Stephen '22
Next in the pep rally lineup were the fall sports teams, providing an opportunity to celebrate EHS' student-athletes. Students clapped and cheered as the volleyball, soccer, cross country, tennis, and cheer teams made their way around the track.  
"Being part of the Junior Varsity Soccer Team, I thoroughly enjoyed being part of the pep rally. The pep rally provided great exposure to all of us who played during the Fall Season, commemorating our efforts," said Advay Kadam '23. 
Although the pep rally was intended to gather the entire population of Edison High students, the Class of '25 was unable to attend and participate in this event. Urging ninth graders to reflect on their first marking period choices, Mr. Ross dismissed them from taking part in the pep rally, and the freshmen continued their normal classes instead.
"Attending the pep rally is a privilege, and hopefully the students can learn something from this experience and be able to come to the next one!" said Prakash. 
Despite a myriad of obstacles due to the pandemic, the STUCO continues to plan for several pep rallies to occur throughout the 2021 – 2022 school year. They are working towards greater engagement with students to help nurture and grow the community at Edison High School.