Singing with the Stars
In the middle of September, twenty students walked into Edison High School's choir room expecting a routine day of learning music. However, Mr. Joshua Lisner, Edison High's new choir director, had some unexpected news. The Edison High Chambers Singers had been invited to partake in a workshop at New York City's Merkin Hall with the internationally recognized A Cappella octet, VOCES8.
Lisner had been approached by his high school mentor Dr. Heather Buchanan, the choir director of the John J. Cali School of Music at Montclair State University (MSU). Buchanan, along with the Director of the Cali school at MSU, Mr. Anthony Mazzocchi, were working on an Immersive Residency Program, an idea Dr. Buchanan hopes will "rebuild our community and standing in the music world as we returned to in-person instruction following the 2020-21 pandemic year."
This initiative aimed to encourage interest in music programs in response to diminished engagement due to online learning. To expand the reach of this program, Buchanan invited the choirs of Edison High School, J. P. Stevens High School, and Tenafly High School to join the MSU singers. 
Many of the students were not aware of VOCES8 and their significance. The London-based choral group was founded by brothers Paul and Barnaby Smith in 2005, the former now the group's manager and CEO. Since its creation, VOCES8 has received much recognition in the choral world.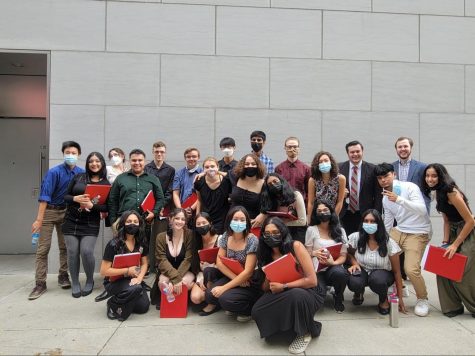 The current members of the group are Ms. Andrea Haines (First Soprano), Ms. Molly Noon (Second Soprano), Ms. Katie Jeffries-Harris (First Alto), Mr. Barnaby Smith (Second Alto/Countertenor), Mr. Blake Morgan (First Tenor), Mr. Euan Williamson (Second Tenor), Mr. Chris Moore (Baritone), and Mr. Jonathan Pacey (Bass). The group has released fifteen albums and fourteen singles since its debut. Besides their performing career, VOCES8 is dedicated to music education, which they pursue through the VOCES8 Foundation.
To prepare for the workshop, all four choirs were required to learn two songs: "Ubi Caritas," composed and arranged by Ola Gjeilo, and "The Road Home," composed by Michael Dennis Browne and adapted by Stephen Paulus. The students had a month to learn these pieces.
"[They] worked hard to learn and memorize the music," says Lisner, who had attended a VOCES8 workshop himself while studying at Westminster Choir College.
"
Simply being exposed to another ensemble's sound and artistic voice allows us to engage in discourse about their choices."
— Mr. Josh Lisner
Leading the workshop, the members of VOCES8 fostered an interactive environment in which students were encouraged to explore their musicality. A few of the exercises included call and response, manipulating rhythms, and singing a multi-part arrangement of the song "Proud" by singer Marshmello.
Following these exercises, the MSU singers were invited onto stage to sing the prepared repertoire. They worked with B. Smith to enhance their performance, taking note of his critiques and praises. They also learned to incorporate the techniques VOCES8 employs in their own demonstrations of the music.
"Simply being exposed to another ensemble's sound and artistic voice allows us to engage in discourse about their choices," said Lisner.
From their seats in the audience, the high school students learned tips and ideas to improve their own renditions of the repertoire.
"We are telling stories through the music we make," said co-founder P. Smith.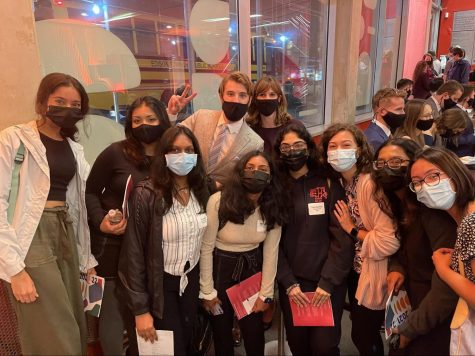 After a brief detour into Times Square, Edison High's choir returned to Merkin Hall to attend VOCES8's evening concert for their newest album, After Silence. The concert consisted of sixteen songs, ranging from traditional classical pieces to contemporary jazz.
This experience, which allowed for students to expand their interests in singing and receive professional training, was the first opportunity of many in the Edison High Choir Department. It also marked a precedent for future collaborations with MSU through the Immersive Residency Program. Dr. Buchanan is currently working on several plans for the near future, including workshops with artists Kamala Sankaram and Roomful of Teeth for the spring semester. She is also in the process of choosing artists to invite to the program for the 2022-2023 school year.
"I have a couple [of events] in mind and Edison High School will be top of the list when we do announce," Buchanan said.