STEM Summer: Seniors Take On Governor's School
Last summer, three Edison High School students attended the Governor's School programs hosted by Drew and Rutgers Universities. Srinidhi Venkatesh '22 and Vasumathi Venkat '22 attended the Governor's School in Engineering and Technology hosted by Rutgers, while Ali Ahmed '22 attended the Governor's School of the Sciences hosted by Drew. Both programs lasted for four weeks, starting at the end of June. During this experience, all three students learned a great deal regarding STEM subjects.
The participants found out about the program through different means. Venkatesh found out about the program from past students. "Being friends with prior EHS Governor's School attendees, I've heard about the Governor's School of Engineering and Technology for a few years now. The stories I've heard both about the classes and the research projects really got me interested in this program," she said.
Ahmed was intrigued by the opportunity to perform research after his teachers recommended that he apply. "I heard about the Governor's School of the Sciences (NJGSS) through my teachers, who encouraged me to apply for a nomination," he said. "The opportunity to do research in a lab setting at a university intrigued me, so I decided to apply for a nomination."
Venkat heard about the program from Shruti Garg '20 and pursued it within school from there.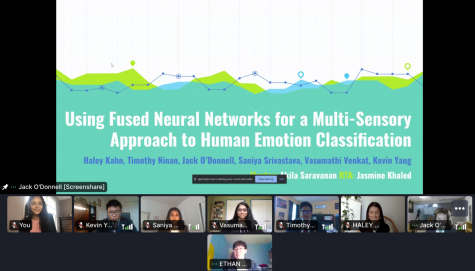 Throughout the program, students took courses in several advanced engineering and science related subjects, such as machine learning, astrophysics, and special relativity. Venkatesh authored and published a paper during the program about the uses of sound in device locking mechanisms entitled "AI-Driven User Authentication: An Exploration of Structure Borne Acoustics in Mobile Devices."
Ahmed worked with a quantum computer to create a scalable Sudoku game on it.
Venkat worked on etching microcomputing components and designed them virtually, and simulated electronic components virtually. She authored and published a paper entitled "Using Fused Neural Networks for a Multi-sensory Approach to Human Emotion Classification Video." These achievements are a few examples of the participants' various activities during the program.
"
I was honored to meet so many incredible and like-minded individuals"
— Ali Ahmed '22
During their time in the Governor's School, all three students conducted research that was later published. Venkatesh conducted research involving artificial intelligence, a new and rapidly growing field of computer science focusing on machines that can make decisions based on past decisions, as well as authentication.
"Our project is an AI-Based model that proves that we can use sound to authenticate mobile devices," she said. "Essentially, we play a specific sound from the phone and record that sound as the user holds the phone. The user's unique hand shape distorts this sound. By using the AI Model to compare the original sound with a recording of the distorted sound, we can identify whether the user holding the phone is the one we should authenticate."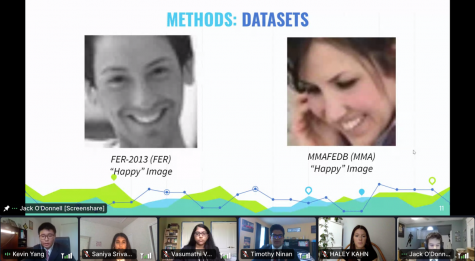 Participation in the Governor's Schools is a large time commitment, and all three participants from Edison High expressed that they spent much of July staying up late at night to complete work for the classes. "During the four weeks of GSET, I wasn't really able to do many other extracurricular activities because of how demanding GSET was. We had most Saturdays and Sundays off, so I often took those days to go hiking or kayaking with my family," said Venkatesh.
Despite this rigorous schedule, Venkat recounts several fun activities the program offered during breaks: "…they decided to do a Bob Ross painting type of thing, so they sent everybody GSET t-shirts. They sent everybody watercolor sets, and we all did it and posted it on our Discord, so now we have a slideshow of everyone's work," she said.
Before participating in the program, however, all three students were required to submit an application consisting of a nomination by the school, 5 essays, letters of recommendations, submission of grades and extracurricular activities, and an "elevator pitch" (2-minute video about why one is a good fit for the program). "The program is highly competitive, taking only 20% of all nominees. Thus, receiving the acceptance letter was one of the highlights of my year," said Ahmed.
"When I saw the words 'Congratulations,' I was shocked and elated," said Venkatesh. To be honest, I didn't think that I would qualify for this program because of its competitiveness, but I was so happy to have received this opportunity."
All three participants also expressed their profound gratitude to the program for allowing them to explore their STEM interests in an environment with similarly intelligent and passionate students. "I also made many friends during my time at the Governor's School; I was honored to meet so many incredible and like-minded individuals," said Ahmed.
Overall, such a program provided an opportunity for these three students to make connections, learn more about STEM subjects, and more importantly, conduct research and begin their journey into their futures beyond high school and in advancing the world.