Fulham Sets School Record
Mr. Matt Fulham, of the Edison High School football team, has become the winningest head coach in the team's history. The team's record while under his leadership is the most successful it has ever been. 
Fulham applied for the coaching position at EHS after graduating college. "I always loved sports growing up and I played football in High School and College," he said. He enjoyed his coaching position so much he decided to continue. He chose EHS in particular as he had already assistant coached for 5 years, and was quite familiar with the program. 
This season has seen the football program with a record of 4-3 with 2 games left in the season before the state playoffs. "We are 3rd place in our division, 6th place in Middlesex County and the number 15 team in the 63 team Big Central Conference," said Fulham. Although last year the Covid-shortened season ended with EHS going 4-2, he had hoped that the team would make a state playoff run this year. 
"
The team dumped a bucket of ice water on me and said congratulations"
— Coach Fulham
Fulham has clearly enjoyed his time with the football program. "One of my favorite memories is from my second season.  Our team was heavy underdogs against JP Stevens on Thanksgiving Day but we won 29-28 when Quarterback Erik Janz threw a 2 point conversion pass to Michael Campbell with just a few seconds remaining in the game to win," he said. "We have defeated JP Stevens 13 times in 16 seasons and have won 8 years in a row."
Other memories over the years were when Frank Leone booted a 32 yard field goal to beat a state ranked Sayreville team and when Tylor Montford had the game winning touchdown run against South Brunswick in a state playoff game during an 8-3 season. 
Fulham said he wasn't paying attention to the record. He would go out every week with the same focus and attention to detail as always.
After they beat New Brunswick 21-7, "the team dumped a bucket of ice water on me and said congratulations",  Fulham said. Only then did he realize what was happening, and although he said the ice felt bitter and cold, he said success felt even better.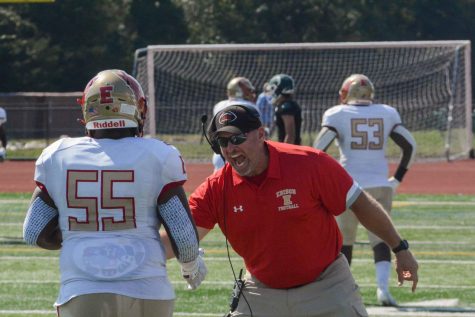 Fulham attributes his success to the support of two individuals: building principal Mr. Charles Ross and athletic director Mr. Dave Sandaal.
"I am blessed to have been the head football coach here for 17 years, " he said. "Mr. Ross and Mr. Sandaal and the rest of the EHS administration really care about athletics and are committed to our student-athletes' success on the field, in the classroom, and in life."