Game On! Esports Arena is a Go
The Edison High School Esports (E3) Arena was officially opened by Superintendent Dr. Bernard Bragen in a ribbon-cutting ceremony on Monday, November 29. The Esports Club invited students and club members to witness the arena lit up for the first time. Also in attendance were school principal Mr. Charles Ross, technology supervisor Mr. Ralph Barca, and Edison mayor-elect Mr. Sam Joshi.
Bragen, the visionary of the idea, cut the ribbon that officially opened the arena for use. He said he was excited for the opening and was pleased with the arena's finished product.
"
I want the kids' eyes to light up when they walk in"
— Mr. Ralph Barca
"I cannot be more pleased with the turnout and the interaction of the students in the Arena. We expected a successful opening, but until it comes to fruition you are never really sure. Actually seeing students engaged in gaming and utilizing the devices reinforces what we suspect," said Bragen. "I'm very happy right now, and I'm very happy for you guys. You get a chance and an opportunity to have access to high caliber equipment and machines and be in a competitive gaming league. Six months ago, this wasn't possible. A year ago this was just a concept."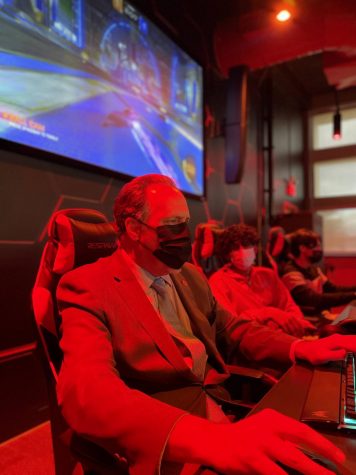 In addition to Bragen, Ross also interacted with student gamers and even played "Rocket League." "I haven't played something like this in a while…a decade or two," said Ross. Video games aside, he also gave insight into the event and the arena.
Ross described the club as a "rocket on a launchpad," and he was looking to "flip the switch." He continued, saying, "It's no use having a Ferrari [the arena] if you don't drive it [use it]." To him, it was more than a gaming arena. "It's about a deeper connection to the school, creative gameplay, teamwork, and making Edison High an experience to remember."
Behind turning the concept to a reality was Barca, the chief information and technology officer of Edison Public Schools. Barca worked with Horizen to construct the arena. He placed special emphasis on the appearance of the arena.
"I especially wanted to see the visual end of it — the lights, RGB, and decoration — to really make a gaming arena," said Barca.
"I want the kids' eyes to light up when they walk in."
And eyes definitely did light up, with around 40 select students testing out the arena. Eagerness was a common sentiment.
"I'm excited," said Roneel Shah '24, Taha Shaikh '24, Syamantak Rout '24, and Suhani Choksi '24.
"It's a great place to hang out with friends and take a break from day-to-day stress. I'm also looking forward to the opportunities and scholarships to come," Praful Maganurmath '24 added.
As students played games like "Rocket League," "Valorant," and "League of Legends" on the computers and projector, participants acknowledged the opportunity afforded to them.
"I'm not a pro player or anything, I feel like this is a really good brain break from school. The setup is great, it's all high-end stuff with a really fast PC and monitor, much better than what I have at home," Akilan Manivannan '22 said.
The PCs are equipped with a Ryzen 7 3700X (CPU), and an RTX 2060 Super (GPU). The monitors are Predator 4K 27 inch displays, with membrane keyboards, and gaming mice.
There are some who may question the necessity for such expensive items rather than just using district-issued MacBooks. These PCs have a GPU that is six to seven times more powerful than a Macbook Air. The CPU is faster in multi-core operations (such as gaming). In addition, the monitors are better equipped for high performance gaming with faster response times and higher refresh rates. The arena and the PCs are built to provide a level field for all players without bottlenecking any individual's experience.
"These computers are built for gaming. Their processor, graphics card—they're built for the speed of the game in a setting where the speed and responsiveness of the device is critical," Barca explained.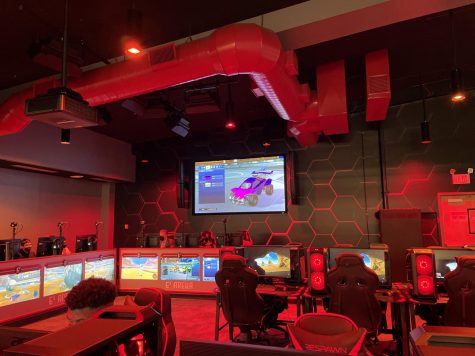 For anyone looking for an inside view of the space, Reeyan Shah '22, Esports Club co-president, provided a virtual 3D tour of the arena.
As for the esports club's current activities, they recently held tryouts and decided their competitive "Valorant" team roster.
"The team has placed EHS on the competitive scene and we are sure these enthusiastic and dedicated members will win awards," said Sean Weinbrenner '22, president of the Esports club. The first practice for the team was held on December 9, 2021.