Snowstorm Threatens Edison Area
This is a continuing story and may be updated periodically.  
A snowstorm will approach Edison this weekend, bringing the potential for heavy snow and wind. The National Weather Service (NWS) office in Mount Holly, New Jersey has issued a Winter Storm Warning for Middlesex County, but complications in the development of the storm system could lead to as much as one and a half feet—or only 4 inches. 
Light snow could pass through the area Friday morning and bring a coating of snow before a short break in the afternoon. More moderate snow begins Friday night and gradually intensifies into the early morning hours of Saturday before tapering off by late afternoon. If you must be outside, stay cautious and wear multiple layers. In total, around ten inches of accumulation is likely, but low model confidence and slight shifts in storm track can lead to large changes in final snowfall totals. Regardless of the amount of snow, Saturday will bring wind chills in the teens and below for the entire day. 
What's creating this storm?
To create this winter storm, energy in the mid-levels of the atmosphere moving southeast from Canada will combine with energy moving east from the Southwest US as the two meet over the Mississippi River Valley. As this energy moves off the coast of South Carolina, it will spawn an area of low pressure over the Atlantic, bringing stormy weather as it moves to the north. Furthermore, Friday morning's light snow will bring in more cold air, which when mixed with the moisture from the Atlantic, will create prime conditions for snow across the Northeast coastline. This nor'easter will then intensify rapidly as it passes New Jersey, bringing blizzard conditions to parts of New England – but what about us?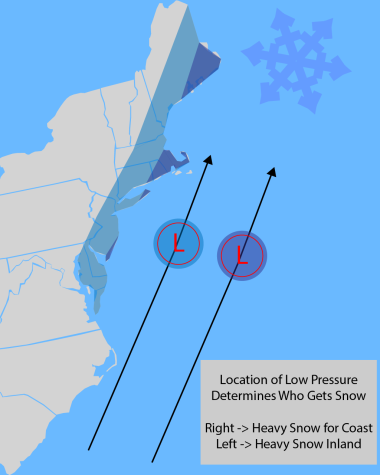 While meteorologists have determined the general setup for the storm, the fine details are not yet known. These details could make the difference between over a foot of snow and a few inches. If the system forms closer to the coast, it will continue to track closer to New Jersey, and heavy snow totals would be moved further inland towards Edison. But if the system forms away from the coast, it would put most of the heavy snow out to sea, preventing accumulation. The exact track may not be known until the snow begins to fall.
Supercomputer weather models produce forecasts for snowfall, temperature, and other valuable information. Typically, with only 12 hours before the snow begins, these models all agree on the amount and location of the heaviest snowfall. However, models have shown much lower confidence levels for this storm. Certain models have been showing a more easterly track, bringing us less snow, while others have been showing a more westerly track with more snow. Over the last few hours the trend has been towards the northwest, as is common with winter storms, and thus our snow amounts have increased somewhat.
Impacts
This storm has the potential to impact the Edison area, including heavy snow, strong winds, coastal flooding, and wind chills. This storm will likely begin Friday evening and end Saturday afternoon, with snow accumulation occurring between 5 p.m. Friday and ending 2 p.m. Saturday.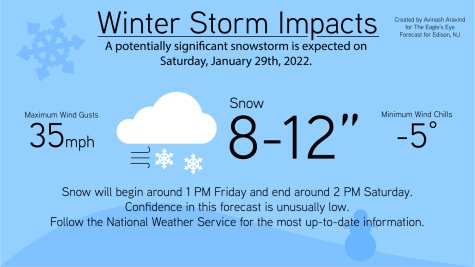 Current NWS forecasts call for 8 to 12 inches of snow during this time period, but a sharp border at the edge of the storm means that anywhere from 4 to 15 inches is possible. This snow could fall heavily at times, especially early Saturday morning Avoid road travel if possible. Strong winds pose a concern, as winds could gust as high as 35 miles per hour according to the NWS. Isolated power outages and low visibility could be a concern, especially during periods of heavier snow.
The arctic air and fresh snowpack will lead to very cold temperatures on Saturday night, with wind chills potentially reaching negative 5 degrees Fahrenheit. "Very low wind chills… may lead to rapid onset of frostbite or hypothermia Saturday night" said the NWS in their 6 p.m. Thursday forecast briefing. While not directly a concern for Edison, coastal regions could see minor flooding concerns as the northeast wind pushes seawater onto low-lying areas.