Eagles Glow in Science National Honors Society
On December 9, 2021, Edison's high-flying Eagles took a step further in their pursuit of knowledge at the Science National Honor Society inductions.
"
I felt ecstatic knowing that I was inducted into an organization that acknowledged my pursuit of science"
— Advay Adam '23
"Science National Honor Society (SNHS) is an organization dedicated to promoting scientific thought and inquiry. It allows for students to further their understanding of science, as well as interact with the scientific community," said Ms. Jessica Bloom, the director of SNHS at Edison High School. Bloom and the senior SNHS board conducted the ceremony, which saw six seniors and eleven juniors join the program. A full list of the inductees is included at the bottom of this article. 
The requirements for admission were strict. "Students earn their spot in SNHS… [they must] maintain an overall GPA of 3.0 (on a 4.0 scale) and a 3.5 GPA  (on a 4.0 scale) in all science courses, and be enrolled in two AP/Honors science courses during or prior to senior year," Bloom said. Additionally, teacher recommendations, extracurricular activities, and teacher recommendations are all required for admission.
For those who overcome these requirements, induction represents the outcome of years of dedicated work.
"I felt ecstatic knowing that I was inducted into an organization that acknowledged my pursuit of science," said Advay Kadam '23. To students looking for a future in science fields, induction into SNHS represents the start of a long but rewarding journey of scientific careers. 
The event was conducted in the media center after school and was attended by teachers, parents, and friends of the inductees. After receiving their certificates, inductees were asked to recite the SNHS oath and crack a glow stick to represent the light of their passion for science. Once the induction ceremony was concluded, snacks and drinks were provided to all who attended. "The event was very nice. It was a small event, but well organized," said an attending parent.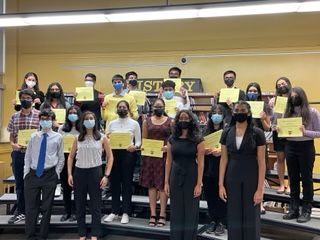 New SNHS members enjoy increased opportunities after being inducted, with events such as science days at Washington and Lincoln Elementary Schools, tutoring for middle school students, and the opportunity to interact with guest speakers, said Bloom. 
---
Class of '22 Inductees:
Pavan datta Reddy

Maulikaa Manikantan

Mayukha Ragimanu

Jana Elgebrawi

Nimisha Kumar

Neha Patel
Class of '23 Inductees:
Anastasia Ibrahim

Vinay Menon

Siddhant Vashisht

Shravani Joshi

Rohan Shah

Advay Kadam

Keya Patel

Arjun Sudhalkar

Saanvi Bhuteja

Pragya Singh

Avinash Aravind