Zampella Ready To Rumble
Gymnastics is a sport that includes physical exercises requiring balance, strength, flexibility, agility, coordination, dedication, and endurance. The movements involved in gymnastics contribute to the development of the arms, legs, shoulders, back, chest, and abdominal muscle groups. Gymnastics evolved from exercises used by the ancient Greeks that included skills for mounting and dismounting a horse, and from circus performance skills. 
Edison High's Gymnastics Team is made up of two athletes, one of whom is Haley Zampella '22. As a gymnast, she tries her best to be better at what she does. At the 2021 competition in New Brunswick, Zampella scored a 9.475 on floor exercises, a 9.555 on beam, and a 9.275 on vault.  Her overall performance this season was good because at the East Brunswick gymnastics competition all round she scored 36.275.
"Gymnastics is not just a sport but a physical workout for her," she said.
"
As a gymnast, she tries her best to be better at what she does. As the only gymnast to represent Edison High, she tries her best to make sure that she makes our school proud."
Zampella is motivated to show her skills to her friends and peers. She practices from Monday to Thursday. When she is not doing gymnastics she is either preparing for school or studying.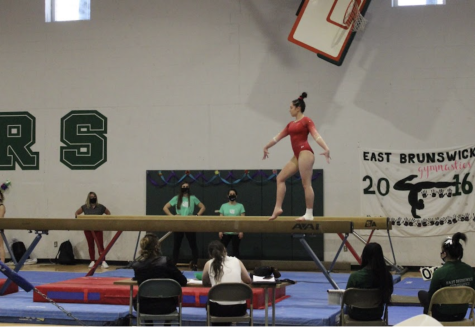 Apart from doing gymnastics, she is also a straight-A student who is devoted to doing her school work. She volunteered to make masks for the children at the daycare at Edison High School.She has also competed for the state championship, competed with schools from other states, and won many medals.
She is happy to be part of the Edison gymnastics team and hopes to make the school proud in the coming competitions. According to her teacher Mr. Vincent Gioffre, "she takes gymnastics seriously and is proud of it."