A Tour Around the Globe
EHS Students Headline Multicultural Night
On May 4, 2022, James Monroe Elementary School hosted the Multicultural Night, in collaboration with the Edison High School's Spanish National Honor Society and Tri-M Music Honor Society. The event took place in the gym, where tables showcased the cuisine and traditions of India, France, Taiwan, Belgia, Croatia, Nigeria, and more. 
To kick off the evening, Tri-M members greeted attendees with pieces such as "Libertango" and "Chili con Carne." Entering the gym, attendees were invited to add greetings in their language to a word cloud, sample foods from different countries, and learn about various cultures. Gaurung Vasan '23 compared Spanish and Indian cultures, explaining that the Hispanic dance Flamenco originated from the ancient dharmic dance of Kathak.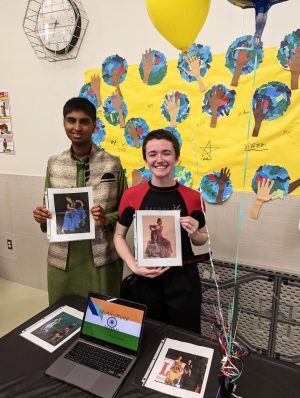 Performances included a karate sequence from Megan Ulozas '22, who also taught a small group how to defend themselves, and a group dance of the Merengue led by Gabriel Romero '22 and Karla Fuentes '22. Students from James Monroe also prepared Bollywood and Spanish dances.
Multicultural nights, such as this, emphasize the importance of cultural representation. "I think it is important to expose the youth to different cultures so that they learn and accept everyone, so they find new perspectives on life," said Alexis Reyes '22.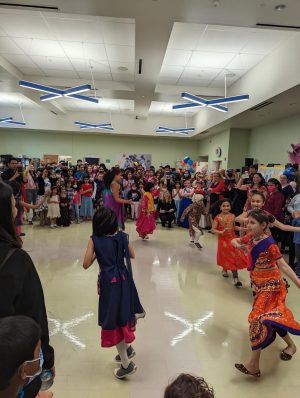 Amy Cortes '22 added, "I think it's good for people to learn about Latin American countries, so Latinos aren't all stereotyped as Mexicans or Spanish. I'm from Columbia and I think it's important for people to understand that all of Latin America is different."
Multiracial students face the dilemma of balancing multiple cultures. Julia Webb '22 said, "[Cultural awareness efforts have] made me more aware and more appreciative of my cultures. I try to appreciate both cultures, except I can't speak any Spanish."
"Oftentimes, we are caught up in our own culture and community and may forget that there is a wide variety of people all across the globe… we are lucky that Edison is such a diverse place," said secretary of Spanish Honor Society Mayukha Ragimanu '22. "Just because we acknowledge that we are diverse doesn't mean we all take time as students and faculty to actually present those cultures to the entirety of the community." 
She added, "Ms. Roca from James Monroe Elementary, and Mrs. Van de Wetering, Miss Fedowitz, and us, the Spanish Honor Society board, took this event as an opportunity to represent as many students and cultures as possible."