Girls Tennis Defeats Monroe, Secures First State Win Since 2005
On Friday, October 7, the girls tennis team beat Monroe in a close 3–2 state match, winning their first since 2005. With this victory, this was Head Coach Mr. Wesley Smith's first-ever win at an away state match. Edison moves on to the first round of the NJSIAA tournament. 
Edison had not played Monroe for around three years, as Monroe was in the Red Division while the Eagles were in the White Division, until this year, when they played each other on September 14, losing 3–2. Monroe was ranked eighth to Edison's ninth in the Red Division going into this game. Additionally, Coach Smith had an overall head-to-head of three matches to two against Monroe before the match.
From prior experience with Monroe, the Eagles' first singles player, Khaliyah Revan '25, already knew that she could use her power to win points and control the game from the baseline. She ended up winning in two sets at 6–3 and 6–2. Coach Smith noted Revan's competitiveness and her composure to dictate points.
"Khaliyah won, 'cause she's Khaliyah," said Smith, while summarizing Revan's game.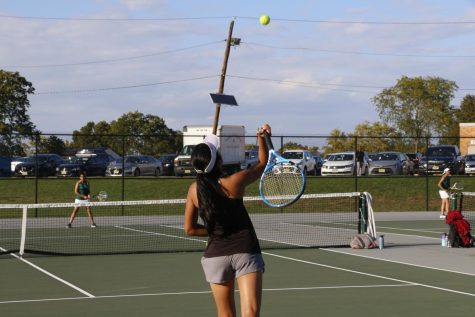 Edison's first doubles team, consisting of Captain Anjali Sharma '23 and Lojein Elgebrawi '25, was tasked with taking on the GMC finalists and lost 6–4, 6–1. Initially, the first doubles team was up 4–3 in the first set but ended up losing 6–4 and 6–1. Edison's second doubles team ended up getting bageled (losing the set 6-0) in the first set and losing the second set at 6–1. 
The third singles match saw Prerna Kulkarni '23 be "that pusher," as Coach Smith remarked, who forces her opponent to make good shots. Despite not having the most powerful shots, her ability to be "metronome consistent" helped her to win points by forcing her opponent to make a series of unforced errors. She went on to win the match with a score of 6–2 and 6–1, to help level the overall scoreline of 2–2.
Like Monroe and Edison's first game, the decider was left to the second singles match. Despite previously losing to Monroe's Nikita Muppoor in a match that went to three sets, Soumya Joshi '24 successfully won her match the second time around. A well-fought first set saw Joshi steal the lead at 5–4. When recounting the comeback, Smith noted the "hidden fire" Joshi has when she plays. Throughout the game, Joshi used her cross-court shots to push her opponent and open up the rest of the court. She capitalized on her opponent's mistakes to win the match at 6–4 and 6–2.
"Although tennis can be an individual sport at times, my team works to try and make sure everyone is able to get the win, and I love being a part of this amazing team," said Revan.