"If It Is To Be, It Is Up to Me"
Ernie G: Inciting Inspiration with Comedy
Mr. Ernesto Tomas Gricheski, stage name Ernie G, is a Hispanic comedian, motivational and TEDx speaker, mental health coach, actor, writer, and producer. Some of his roles have been in Mama's Boy, Next Big Star, and Make Me Laugh. Pursuing these talents and spreading his message, Ernie has traveled the States working with some famous names in the industry like George Lopez. Students at Edison High School had Ernie come to the school to bring laughter to the auditorium, and teach a few lessons along the way.
For his EHS segment on September 22, Ernie had two main seminars: a motivational, comedic segment and a leadership workshop. He addressed topics like conformity, mental health, gratitude, and respect. He believes that these topics are critical to understanding for today's youth.
Ernie connected to the crowd with his ancestry and culture. He said that everybody should be part of where they come from and should be proud of their heritage. Combining humor and meaning, he had various transitions and anecdotes; he also asked for questions to keep the whole audience involved.
One piece of the segment featured touching and comical anecdotes regarding his aunt and mother. His acting out of receiving the infamous "chancleta" to the backside, had the audience rolling.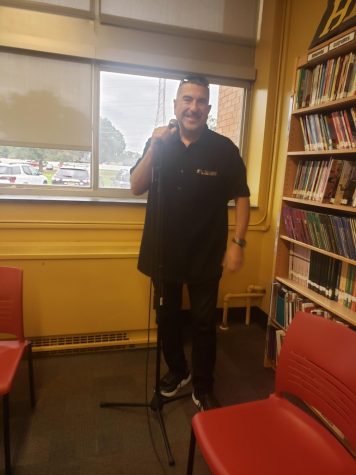 When discussing his upbringing in a rough neighborhood, Ernie brought up how he was tempted to join a gang, and become a "chollo" (a gang member of Latino descent). He acknowledged the appeal, noting certain tattoos and the reputation which he wished to have. However, tying back to the question he posed at the start, he talked of the fear and responsibility he felt for his mother and how that prevented him from actually joining.
Again, he recalled his fear of the infamous chancleta.
Mr. Charles Ross also gave a speech on respect. In this, he brought awareness to depression and discussions on students' outlooks  were also made.
Adarsh Patel '24 said, "I am comfortable with myself and the more people can relate to me, the more I feel proud about myself."
Melody Louis '26 addressed her pride in what she says and where she comes from. She also discussed her goal to have a positive impact for which people would remember her for.
Ernie's final message for students was to recognize that they are all unique and to remember that they were in control of their own future.
"If it is to be," he said, "it is up to me."