Troubles and Benefits of the Newline Boards
Over the summer, the Promethean boards that have been previously used at Edison High were replaced with new smart boards by Newline Interactive. These new boards, the Q-series, were received by students and teachers alike with both thunderous applause and begrudging sighs. 
According to Newline, the new Q-series boards are touchscreen and support stylus use. They make use of a modified version of Android 11 for an operating system, which they run with 4GB of memory. The screens are also 4K and have stated viewing angles of 178 degrees, a measure of how off axis one can view the screen from while the image is still clear. 
There are those who praise the new technology, praising the user-friendly interface, versatility, and clearer images.
"From the student's perspective, the new boards provide much more visibility for us. It's easier to relate it to the electronics we use everyday. Projectors took up a lot of space, and half of the time, wouldn't even work well," said Pavan Arun '25.
"The newline boards are a lot more versatile in what they can do and seem to be pretty convenient for the teachers as well. It's cool being able to do everything on the board instead of having to constantly turn back to the computer," said Arnold Benedict Zamora '25.
However, there are also those who have suffered due to the learning curve and inconveniences that often accompany new technology.
"The new boards are too sensitive and detects the slightest touch, which is not good. Although we can write using our fingers, it's very detrimental in terms of comfort because you cannot lean on the screen or anything like that. Changes must be made to make the board more user-friendly," said Srivatsa Raj '25.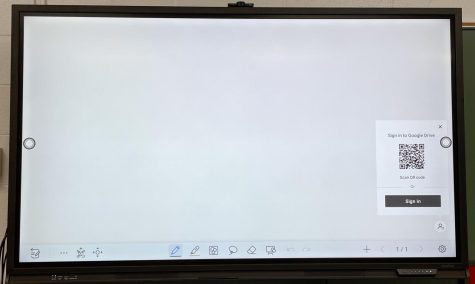 Certain teachers also found themselves preferring the older projectors we once employed due to the simplicity of a whiteboard and marker.
"Personally, I like the projectors better because you can write directly on the board just like this, but you can actually use a marker and erase it. It's just a little easier for me, [and] I prefer the projector compared to the Newline Board," said Ms. Amanda Gonzi, a math teacher at EHS.
Other than the quality of the product itself, there were some issues in terms of installation.
"I think they could have been placed better in the classroom. One of the big disadvantages was that they should have been moved where [students] can see better. So, that was a big problem for my class," said said engineering teacher Mr. Jeffrey Bauer.