Strong Boys Soccer Season Ends With White Division Win
The Edison High varsity boys soccer team recently finished their 2022 season, tying with Perth Amboy for first place in the White Division of the Greater Middlesex Conference, with a win-loss-tie ratio of 7–4–1.
Starting out the season, Edison struggled, losing its first four games. However, it eventually claimed its first victory against Sayreville on September 17, winning 7–1.
Following its victory against Sayreville, the team maintained a five-game winning streak before tying with Woodbridge. Despite this setback, Edison was able to recover, winning its second match against Sayreville and division game against Perth Amboy with a goal 1.6 seconds before the end of double overtime. 
"
Our team showed a tremendous amount of heart, and there is nothing more we could have asked for from them"
— Mr. Chuck Jammal
However, during their pursuit for victory, the team acknowledged certain difficulties.
"After our thrilling game against Perth Amboy which won us the division, we were riddled with injuries ever since," said Assistant Varsity Coach Mr. Chuck Jammal. "That was the biggest difficulty we had to overcome this year."
Once the injured players had healed, the team regained some of its athletes in time for the NJSIAA State Tournament, in which it secured a victory against Piscataway, thus winning the first round of the tournament. The team concluded the season after losing the second round to Westfield, one of the strongest teams in the state section. 
"[Edison] played hard, and every player left everything they had on the field, they truly refused to quit throughout the whole game," said Jammal. "Although our season ended with that loss, I was extremely proud of each and every player."
Players also expressed similar feelings of enthusiasm and pride. 
One of the players, freshman goalkeeper George Kostis '26, took the spotlight, being named New Jersey's top boys freshman soccer player of the season.
"When the season began and I was able to play as the starting goalie with such a great,  supportive team, I knew I had to do my best," said Kostis. "When I heard that EHS was supporting me to win the votes for NJ's top freshman boys soccer player of the year, I was even more excited and felt grateful for being acknowledged."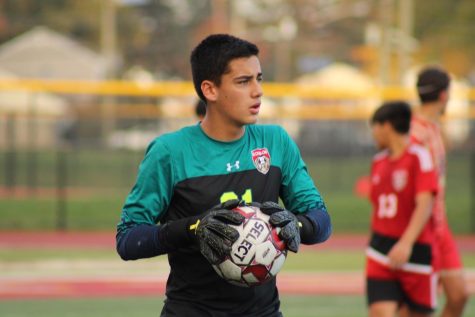 "I will continue to try to better myself by training and playing soccer throughout the year and that is how I believe I will maintain the momentum achieved," added Kostis.
Upperclassmen are bracing themselves to move on but grateful for their time on the pitch.
"It's definitely a sad thing to think about but [I'm] grateful that I even got the opportunity to be a part of the team for the past 4 years and make great memories and friends. It's also great knowing we won the division for the first time in my career," said co-captain Isaiah Charles '23.
Through the season, Edison's perseverance kept them moving.
"Our team showed a tremendous amount of heart, and there is nothing more we could have asked for from them," said Jammal.