Winter Cheer Cheers on to Win State Title
The Lady Eagles cheer team ended their season on a high note, with both varsity and junior varsity teams bringing home a state title against fierce competition.
On February 25, both teams traveled to Middletown, New Jersey, where they competed at Brookdale Community College.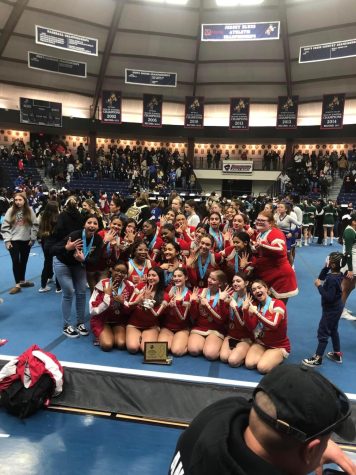 The JV squad competed in the Junior Varsity Large Division. They secured first place with a score of 80.8, a significantly higher margin than Hunterdon Central, who landed in second place with a score of 70.8.
This was JV's first state title, and the team looks onto future seasons for more success.
"I look forward to seeing how far we can push it with difficulty, and I want to see how far we can go with this team, because this season we were pretty up there," said April Godoy '25.
Following JV's successful performance, the varsity ladies were shooting for their sixth state title. Competing in the Intermediate Medium Division, the competition was stark. Placing first, they beat out the six teams within their division. Their score of 84.1 was also the highest score of the entire session, which consisted of 27 schools.
As Cadence Sarni '23 reflected on her last season, she acknowledged the work put into winning two state titles.
"The work ethic amongst JV and varsity has been something I've never seen before," Sarni said. "These two teams work everyday, on the sideline of games, right after school, etc. Walking into a practice, you can tell these are championship winning teams."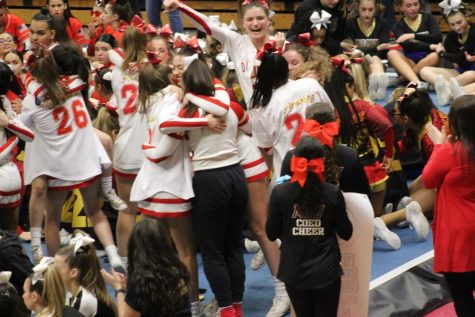 "These teams know how to put their heads down and work. Truly incredible," Sarni added.
With the season closing, Ms. Nicole Gregoire, Varsity's head coach, acknowledges a special year with memorable athletes.
"This group of seniors has been part of the program all four years of high school and will be so difficult to replace," she said. "This team worked so well together and truly wanted to be the best versions of themselves for each other. To say I am a proud coach, would be an understatement."
For many seniors, this was their last state championship and as they stepped onto the mat, their passion was evident. With flying colors of red and gold, the Lady Eagles cheer team ended their star-studded season successfully securing their sixth state title.