EHS Makes it to Morris Museum With Kakuru and Kersting
A cardboard mug made of clay, and a body-less woman with pearls. What do they have in common? Both are the creation of two EHS students. 
Hyndavi Kakuru '23 and Valerie Kersting '23 had their pottery featured at a showcase in the Morris Museum, thanks to the guidance of Art teacher Ms. Anne Fernandez. A Smithsonian affiliate, the Morris Museum has recently created a Fresh Perspectives exhibition to feature artwork from high school students in New Jersey. The competition has been running from 1989, and this year, it hosted judges from James Yarosh Associates Fine Art Gallery and directors of Morris Museum.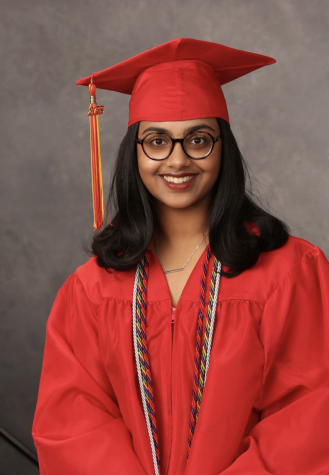 Kakuru created a ceramic structure of a woman's head with red lips and pearls. Her last project from Fernandez's Ceramics 1 class, "Young Woman", went on to be featured at the Morris Museum. 
"While I did initially start ceramics to fulfill my 21st-century visual arts requirements, I came to realize that I really felt very happy, relaxed, and satisfied with the process of ceramic making," said Kakuru. "I definitely knew that I wanted to create a woman because I thought it would be pretty fun to sculpt jewelry, hairstyles, etc. for a woman. Quite coincidentally, I was also watching the Netflix series 'The Crown' at the same time, and that's when I finally resolved to make a Victorian woman ceramic structure."
Kersting also made a glazed pottery figure; hers was of a cardboard mug. 
"I like playing around with textures in any medium," said Kersting. "I thought a ceramic mug that looked like cardboard would be funny, because cardboard would absolutely suck to drink out of. So the smoothness plus corrugation of the cardboard, as well as the shiny addition of tape, gave me multiple textures to play around with."
This venture into glass pottery was hardly Kersting's first artistic exploit. 
"I just love art, I always have. It's not much more complicated than that. I love being able to think of something, and then turn it into a reality, and art is rarely a chore for me," said Kersting. 
For those who hope to pursue art in the future, she recommends patience and practice. Similarly, Kakuru wishes to remind any young artist that she was only a beginner when she created the "Young Woman."
"Although the process seemed difficult at times, this will and trust in my vision ultimately resulted in the final 'Young Woman' sculpture," said Kakuru. Both students made sure to thank Ms. Anne Fernandez for encouraging them to seek out such opportunities.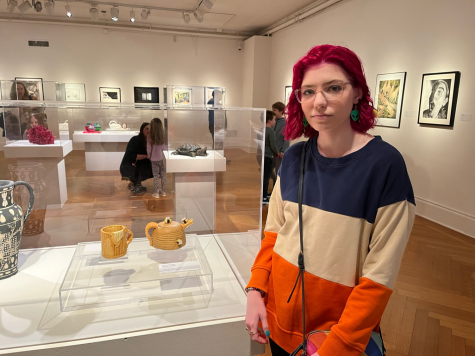 Fernandez finds it fascinating to witness the creativity and joy of individual students in creating artwork. She was very proud of the hard work from these two students and shared their unique experiences as they created their artwork. 
"Hyndavi's work that she was able to produce at home with all the difficulties of trying to communicate and receive directions virtually was outstanding. I knew immediately that her work needed a chance to get shown to a wider audience. It has been exciting to see Valerie transform her passion for 2D art into now creating wonderful 3D artwork," Fernandez said. 
She has been able to foster a welcoming, and inspiring environment for students in their creative journey, allowing them to reach their potential.
"I strive to help the students understand that they are all attempting a new skill together. I remind students often that as long as they do not drop their work, this will be a cherished piece of artwork that can get handed down to their great great grandchildren someday! Students laugh at me for saying this, yet I find that they then spend a bit more time planning a piece of work that inspires a sense of pride," Fernandez said.