Slam Dunk! Varsity Girls Dominate Throughout Season
After a long season of willpower and achievement, the girls basketball team's 2022-2023 season has come to an end. Throughout the season, the team's overall performance and players individually astounded all at their peak. With their 21–7 record, marking the second-most wins in Edison's basketball history, and 15–2 in the GMC White Division for the second time in Edison history, it was a season to remember from start to finish.
"This season was truly amazing due to people doubting us in the beginning," said Keisha Ortiz '23. "Over the years, we have lost our great players, leaving people in doubt thinking that we will not have a great season. We worked hard during the off-season which paid off during the season, awarding us with the White Division champs."
On December 15, 2022, the girls stepped onto the court of Sayreville War Memorial High School and left with their first official win of the season. From there, they went on a winning streak, winning ten more games after their first, some of which they beat the other team by almost twenty, and even nearly forty, points. Although they were breezing through their season, all sports experience a rough patch.
The ladies faced the difficulties with confidence. They still managed to achieve victory no matter what competition came their way. They played through several tension-filled games, the most remarkable being their second game against J.P Stevens. With this game, the scores got closer each quarter until they broke even, bringing them into overtime. Yet, with all the anxiety in the air, they took the win on the court of our crosstown rivals and achieved Coach Mr. Francis Eckert's hundredth win of his coaching career at EHS. This was their start to the way back up.
Soon enough, after several well-played games, they made it to the GMCs for White Division. Playing their first round against Woodbridge, they won with the gaping score of 62-31. Unfortunately during the quarterfinals against Monroe, the close score of 58-39 brought the GMCs to an end for the team. With their 15–1 final score for the GMCs, they won first place in the division. This marked a new step up in the basketball season as all of the work they put in began to pay off.
"Some of our strengths that helped this team fight during this season is our motivation to win. Starting with our coach believing in us, which pushed us a little more to succeed in our games," said Ortiz. "Every single player motivated each other to be better and always cheered each other on. This season meant so much to me due to it being my last and to end the season off with division winners is truly an honor."
Next, they advanced to the NJSIAA State Tournament, eager to play more games. They played two games, playing the first round against Union, where they won 67–46. From there, they made it to the quarterfinals against Westfield, which unfortunately brought their season to an end with the score of 65–27. Although they did not get as far as they hoped, they put up a fight from the start to finish. In addition to their sheer diligence, they used past learning experiences to tackle this season, adding to these experiences after the season.
Ghelsey Go '24 also expressed some final thoughts about the season.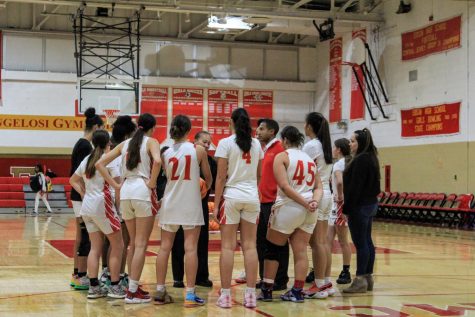 "The season was very fun and memorable since we were White Division champions, and it was rewarding to win games like J.P., Old Bridge, Piscataway, Woodbridge, etc. Everyone got along really well and made a lot of good memories," she said.
As the athletes celebrate the season's end with high fives and hugs, there's always the additional pat on the back for the seniors. Two seniors, Bonnie Sellers '23 and Ortiz helped this team with strong defense and offense. By adding points, blocking, assisting, and rebounding any chance they got, they helped tally up the wins to their season.
Some of the ladies won awards for their performances. Leading the team with assists, Go won First Team All White Division and First Team All County. Leading with steals this season, Trista Whitney '26 won First Team All White Division. To wrap it all up, Ortiz, who led the team with steals, and Olivia Smart '25, who led the team with rebounds, both won Second Team All White Division.
"Our seniors, Bonnie Sellers and Keisha Ortiz, were great in creating a positive team atmosphere," he said. "Ghelsey Go's will to win and ability to lead by example was also tremendous in helping our overall performance."
"Our role players Jocelyn Gross, Victoria Charles, Kate Hahn, and Anna Marmol were always ready to contribute in any game," he said, "and maintained a level of competitiveness that helped our team be prepared for any challenge. We also had an incredible boost from our freshman guards, Trista Whitney and Angie Kearns."