DECA State Conference: Shaping the Business Leaders of Tomorrow
Edison High School students participated in the Distributive Education Clubs of America's (DECA) state conference in Atlantic City, taking place from February 27 to March 1. Out of seventy-three competing EHS students, fifteen reached the finals round. This year, six students will be attending the International Career Development Conference (ICDC), taking place in Orlando, Florida from April 22 to 25.
There were reportedly 4,000 people at the DECA State Conference, and Edison High contributed 73 competitors to that total — the largest group of qualifiers ever for EHS.
"I loved hearing the students explain how exciting it was to be part of something so big, and how they overcame their nervousness in their role plays and presentations, and how they made friends with people from so many different schools," said Ms. Lynne Tierney, EHS DECA Advisor.
"I'm very proud of them all," Tierney added.
Every year, EHS DECA competes against students from the region and state, focusing on various aspects of business fields. Competitive events revolve around marketing, finance, and business administration, at the regional (Central-West), state (SCDC), and international (ICDC) levels.
Competing DECA members took a specific event-related test at EHS and participated in a roleplay or presentation at the regional competition. During this roleplay, students took on a position in their category of business and responded to a hypothetical scenario. They were given ten minutes to prepare and then spent ten minutes interacting with the judge about the given situation. If they qualified for the state competition, the students then traveled to Atlantic City after taking another test and engaged in another roleplay. Ten or twelve students from each category progress to the semi-finalist round, with six or seven students ultimately qualifying for ICDC, depending on the event.
During the State Competition, there were two awards ceremonies: the Mini Awards Ceremony and the Grand Awards Ceremony. The Mini Awards Ceremony occurred on February 28, 2023, and recognized students who received the highest test scores or performed the best in their roleplays. For the Grand Awards Ceremony on March 1, 2023, students who had qualified for ICDC wore their formal attire, and the top six/seven finalists from the ten/twelve semi-finalists received a glass trophy in recognition of achieving the highest cumulative score for the state test and roleplay activity. They qualify for ICDC.
Mini-Awards Winners (Top Test or Roleplay):
Twisha Patel – MCS
Archana Maryada – AAM
Ashutosh Behura, Mahdi Jamal Mohamed, Pranav Janaki Ashok – IMCS
Tanush Kulkarni – PFN
Charvi Padmanabhini – HTPS
Kosha Patel – QSRM
Alvin Wu – HRM
Vedant Talati – BSM
Masumi Chhabria – PFL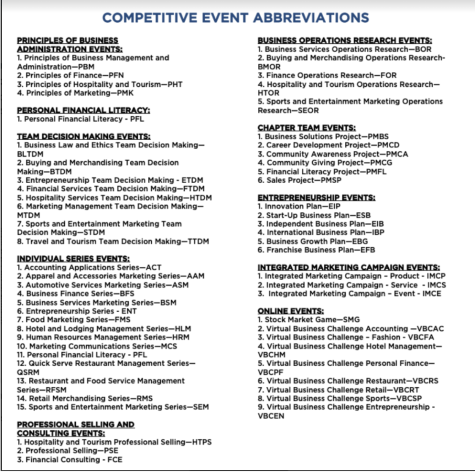 Semi-Finalists:
Archana Maryada – AAS & HTOR
Archana Maryada, Gauri Kshettry – HTOR
Vedant Talati – BSM and EIB
Vedant Talati, Kanishk Ragimanu, Zashaan Shaik – EIB
Twisha Patel – EIB and MCS
Masumi Chhabria – PFL & FOR
Masumi Chhabria, Jayesh Chaurasia – FOR
Sweemit Goswami, Shreyas Boddupalli, Kushagra Dhall – EFB
Alvin Wu – HRM
Charvi Padmanabhini – HTPS
Sanika Manjrekar – HTPS
Anish Phatak – PFL
Kosha Patel – QSRM
ICDC Qualifiers:
Archana Maryada – 3rd place AAS
Vedant Talati – 6th place BSM
Twisha Patel – 6th place EIB/MCS
Charvi Padmanabhini – 4th place HTPS
Masumi Chhabria – 5th place PFL
Anish Phatak – 6th place PFL
Alvin Wu – 6th place HRM
While not competing, students were able to hang out with their friends at Downtown DECA. This indoor hub was filled with games like ping pong, chess, and Just Dance. Students also relaxed in their hotel rooms after their role plays and explored different parts of the resort.
"Downtown DECA was a realm and environment of its own. I was able to socialize with other students and make new friends while still enjoying and having fun through karaoke and trivia. Overall downtown DECA vibes were immaculate," said Taha Shaikh '24.
"Being a first-year DECA member was scary at first, but I definitely enjoyed my time at SCDC because of the networking opportunities and new connections I formed, whether it was meeting people at Downtown DECA or people in our chapter! I made so many friends and memories," said Kosha Patel '24.
Many students networked with business professionals at the SCDC conference. The DECA competition allowed students to gain valuable experience and explore occupations in business. EHS chapter presidents were also able to attend State Chapter meetings to talk to chapter presidents from other schools.
"It was a great experience to meet people across all of Jersey, but the best part of the trip was seeing our Edison Chapter bond with one another. Whether it was helping each other with competition advice, meeting up in the team room at night, waving to each other in the hotel or even racing in the hallways, this experience really brought the DECA eagles together more than ever," said Mansi Chhangawala '23, co-president of the EHS DECA Chapter.