An Evening of Jazz: Commencing the 2023 Season
On Friday, February 3, EHS hosted its annual jazz festival to kick off the New Jersey Association for Jazz Education (NJAJE) season. The festival opened with the Jazz Band directed by Mr. Joseph Ciappina, performing "Sweet Georgia Brown," "Fiesta del Tigre," and "It is What it Is." Then, bands from JP Stevens, East Brunswick, West Orange, Scotch Plains, and Passaic County Technical Institute were showcased, with the night finished off by the Edison High Jazz Ensemble directed by Mr. Marc Denicuolo, performing "Nerve Endings" by Bob Florence, and a mashup of "Brooklyn" and "Wrestlevania" from the Youngblood Brass Band. JP Stevens took the spotlight and won best band of the night.
"Between myself and Mr Ciappina we end up setting everything up ourselves," Denicuolo says. "Including reaching out to invite other schools, booking judges, creating the schedule, managing awards, all logistics of making the event flow smoothly."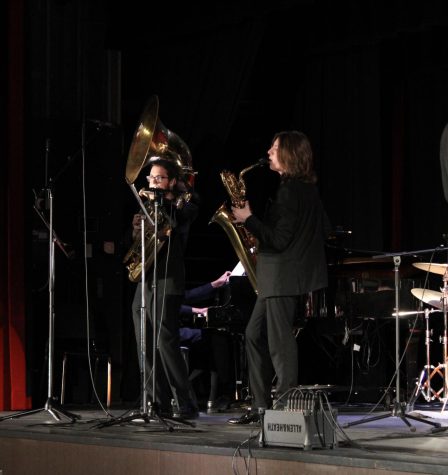 Despite the hectic nature of running an event and having a group perform, Denicuolo remarks that the festival appeared to have had a great outcome overall.
"Jazz festivals are one of those places where the energy always seems to stay high. Even if it was a competition, it was a lot of fun watching other schools perform songs from a wide range of genres!" said piano player Akash Mitra '23.
"I was kind of nervous coming in because I hadn't played in front of people with my jazz group for around 6 months or so, but I know when we started playing it just felt right," John Marcelo '24, a drummer, said.  
Overall, the festival appears to have been a great start to the NJAJE 2023 Season. 
"For me, the highlight would be actually performing and just vibing with everyone else on stage," Mitra said.
The EHS Jazz Ensemble will next perform at JP Stevens for the state finals on April 29.