Steppin' Into the Ring: Eagles Reach New Heights With Wrestling Mania
The wrestling team attained the top win-loss record in the White Division with 20–4, a significant improvement from their 7–12 record last year. Led by strong performances all around, the team pinned and defended their way to a second-place division finish, matching a school record in the process.
"Edison enjoyed one of the most successful seasons in team history," said Head Coach Mr. Scott Gerba of the team's performance. "The team tied a school record with twenty wins and only four losses!"
While the Eagles were unable to win the White Division, falling to St. Thomas Aquinas by a margin of 54 points to 21 in a January 18 match, the team's record and GMC performance reflect their many achievements.
In addition, the team made the state playoffs, in which the Eagles defeated Woodbridge, Colonia, and East Brunswick—all longstanding Edison rivals. 
"Edison was voted the most improved team in Middlesex County!" said Gerba of the turnaround. 
The team's overall success was not without its own challenges, however. As the season progressed, wrestlers often found themselves having to tackle personal struggles, such as a lack of experience and being matched against strong opponents.
"Some of the more challenging points, for me at least, were getting on the varsity lineup and getting varsity matches against wrestlers that had much more experience than me," said newcomer Justin Duggan '25.
Despite the adversity, Eagle wrestlers still managed to deliver winning performances. For example, notwithstanding the loss against St. Thomas Aquinas, they pulled through to win their next five matches, including a 72–9 victory against Carteret. 
"[The difference in experience] made it hard to win at times, but most times I was able to get enough momentum and strength in me to roll them back over and pin [my opponent]," said Duggan. 
The season's success also gave each coach and wrestler their own selection of best moments. 
"Some of the most memorable moments were our opening night victory over Woodbridge, a dominant home match versus East Brunswick, and defeating powerhouse Manville to secure a record-tying twenty wins," said Gerba.
For others, the most memorable moments came from simply having a great time.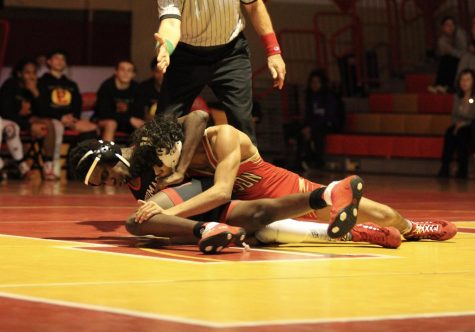 "For me, some of the best moments were just waiting in the locker room with your adrenaline pumping like crazy, hearing 'Iron Man' blasting on the speakers in the big gym," said Duggan.
The Eagles hope to carry their successful run into next season, where they hope to find talent to replace such key performers as seniors and team leaders Stevens Vazquez '23, Abdullah Rizvi '23, Juaquin Cruz '23, Josh Pizzaia '23, Hany Ghazy '23, and Middlesex County MVP Julian Dawson '23. 
"Next season, I'm looking forward to meeting all the new wrestlers and hopefully wrestling some of them myself," said Duggan.