Hi, my name is Saira and I have very little experience in baking and cooking. Come along with me as I navigate my culinary journey one step at a time.
Generally, when I step foot in the kitchen, I am driven off by my parents in fear that I am simply going to make a mess. I have never been an exemplary chef, as dealing with spices in cooking seems challenging enough and baking is a long and tenuous process that can go to waste with one minuscule error. Whenever I am creating something in the kitchen, it is normally for a purpose and is ready-made. Still, I am an avid watcher of Food Network—one of my favorite shows since I was little is Chopped.
However, as school and life, in general, grow tiring, I yearn for a much-needed break once in a while: being in the kitchen allows me to both fulfill my present cravings as well as prepare for the nearing future of adulthood.
Now, with autumn upon us, we see leaves changing colors, chunky knit sweaters, and cooler temperatures. But the epitome of this season is the versatility in which pumpkins are used and displayed.
Personally, I do not enjoy pumpkin-flavored foods as the taste becomes overpowering, though I wanted to attempt to create a dessert of my own to see if I would enjoy something more if it was homemade rather than store-bought. The first thing that came to mind was pumpkin pie, but as soon as I suggested it to some friends, they strongly agreed that it was "basic" and I should try something that is not as common.
So, I took to searching through the national days of October and came across National Pumpkin Cheesecake Day, which was on October 21. I thought pumpkin cheesecake would be perfect, since it was effortless to find a recipe online and simple enough to modify to control the pumpkin flavor that would suit my liking
While scouring the internet, I was delighted to see that my chosen recipe was from a familiar source— Yumna Jawad from Feel Good Foodie. I had previously seen her videos on several social media platforms and they all seemed amazing. Her recipe was fairly uncomplicated and her precise ingredients and explanations were immensely helpful as a beginner.
The recipe included very basic ingredients and instructions, and she implemented spices into the dessert as well, but I did not think it was enough for such a large quantity of cheesecake. Thus, I increased the amount of ground ginger and added other homely spices such as nutmeg, cardamom, and allspice to enhance the dessert's taste. Similarly, I altered the amount of cinnamon by almost twice the amount and reduced the salt abundance since I used regular butter rather than unsalted butter as recommended in her recipe.
Here is a picture of the finished cheesecake: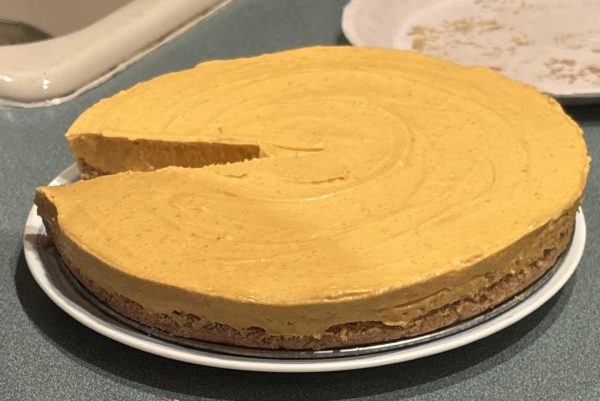 You'll notice that it doesn't look nearly as appetizing as the original. This is because the crust was not smoothed down enough, and the cheesecake was not leveled.
I had made a substantial amount of cheesecake, so I gave it to my family, friends, and teachers to receive feedback for upcoming recipes. Some people were hesitant to try it upon hearing its flavor, but others went straight for it and loved it. I received varied feedback, with some comments being about the crust while others encouraged me to intensify the pumpkin flavor.
If I had to bake this again, I would grind the graham cracker crust more so that it tastes more refined, as well as reduce some of the spice quantities to allow the pumpkin flavor to shine through.
Overall, I would say that this recipe has been a success. As a beginner, success to me means being able to make the dessert without making an excessive mess or burning down my house. On a deeper level, taking time out of my week to make a treat that I can enjoy with my loved ones helped me de-stress and take a much-needed break after a long week. I think that if everyone puts aside some time to loosen up—which may be in the form of cooking or baking—it would help us find peace and relieve our tension.
The ingredients and instructions below were found here: "No Bake Pumpkin Cheesecake," by Yumna Jawad.
INGREDIENTS
Graham Cracker Crust
2 cups crushed graham crackers
2 tablespoons dark brown sugar
2 teaspoons ground ginger
¼ teaspoon salt
7 tablespoons butter, melted
Pumpkin Cheesecake Filling
16 ounces cream cheese, room temperature
1 15oz can pumpkin puree
1 cup heavy cream
¾ cup granulated sugar, divided
¼ teaspoon salt
1 ½ teaspoon cinnamon

INSTRUCTIONS
Place a sheet of baking parchment over the base of a 9" springform pan. Place the open exterior ring around the base and close it so the parchment is sealed in the ring. Trim the excess from around the outside.
In food processor, combine all crust ingredients and blitz 2-3 times until crumbs are all moistened.
Press the crumbs into the springform pan and up the sides to a bit over ¼" thick. Press the mixture along the base, thinning out the corners. Freeze the crust while you prepare the filling.
In a large bowl, beat the softened cream cheese with a handheld electric mixer on med-high speed until light and fluffy. Add ½ cup sugar, pumpkin puree, salt and cinnamon. Whip until smooth and there are no chunks of cream cheese. Beat on low until smooth.
In a separate bowl, beat the heavy cream to soft peaks on medium speed. Add remaining ¼ cup granulated sugar and beat to stiff peaks.
Fold whipped cream into cheese and pumpkin mixture gently so that you deflate as little of the air as possible.
Remove the crust from the freezer. Scrape the pumpkin mixture into the crust and level.
Cover with plastic wrap and refrigerate for at least 8 hours or overnight to set. Remove from springform pan and serve with whipped cream, if desired.
Story continues below advertisement