Back to the RAC
Class of 2022 Graduation Ceremony
Edison High School's 63rd Commencement Ceremony took place on June 17, 2022. After two years on Edison High's football field due to pandemic restrictions and protocols, the Class of 2022 brought a return to the traditional graduation ceremony at Jersey Mike's Arena, formerly known as the Rutgers Athletic Center (RAC). 
At the start of the ceremony, the graduating class walked into the RAC following a procession played by the band and conducted by Band Director Mr. Marc DeNicuolo.
Oluwafiyiwemi Omoniyi '22, the official morning announcer of EHS, led the pledge of allegiance. As she finished leading the last pledge of her high school career, she said, "stay blessed EHS," a tradition on morning announcements for this past school year. 
The Edison High School Choir chamber singers, led by Choir Director Mr. Joshua Lisner, conducted the National Anthem. 
While this graduation ceremony signified a return to school traditions, for the first time in Edison High School history, the orchestra also performed a piece. Under the conduction of Orchestra teacher Ms. Brittney Milicia, the orchestra performed a medley of pieces from Theory of Everything. Representing the tough life of Stephen Hawking, a physicist with motor neuron disorder, the movie portrays his ambitious achievements in the field of science portraying a lesson of perseverance, a fitting theme for today's graduates. 
After this music selection, salutatorian Vasumathi Venkat '22 and valedictorian Srinidhi Venkatesh '22 delivered their addresses to the graduating class. 
"Could you trade any of it away, any small part of it, just for a small gain? You can't. Every part of high school, the good and the bad, has led us here, to graduation. And once you've played your part, life will take you to where you're meant to be," said Venkat in her speech.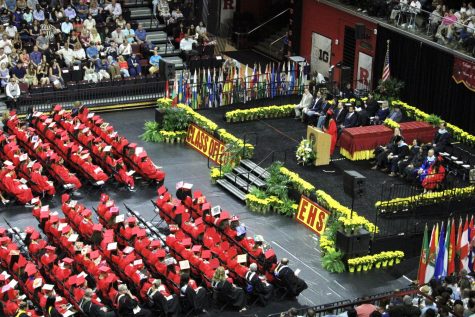 Similarly, valedictorian Venkatesh shared her own lessons on life.
"At the end of the day, you don't need every single part of every single day to be perfect. You need a few perfect moments like this to make the rest of the day worth it," said Venkatesh.
After the valedictory address, the choir, chamber, and acapella singers, performed "For Good" from the musical WICKED. This piece symbolizes that the friends made during their educational career have impacted the lives of the 2022 graduates–another fitting selection for the Class of 2022. 
Superintendent of Schools Bernard Bragen '83 then presented his remarks on choosing the road less taken and perseverence. He then certified that the Class of 2022 completed all state requirements for graduation, and then he presented the diplomas to the graduates.
Despite the focus on the graduates, current and remaining EHS students had the opportunity to reflect on themselves as well. "I loved the opportunity to see the seniors one last time before they all went their separate ways, but I haven't spent much time thinking about how that applies to us next year. During the ceremony, though, there were moments when they were giving diplomas and I thought 'Woah, these will be our names next year,'" said Vinay Menon '23.
"
The moment felt surreal and full circle seeing all the faces of the class of 2022 grown up and ready to take on the world!"
— Emma Mohanty '22
"My sister [Lakshmi Chandrahasan '22] and I are very close so knowing that she'll be in college is scary because we've spent so much of our lives side by side. Even though her high school experience was altered because of COVID-19, I feel like I won't be as nervous when I am graduating because I got to watch my sister these past few years, so I feel more prepared because I get a preview of the situation," said Gauri Chandrahasan '25. 
Throughout this time, the parents, guardians, friends, and other supporters of the graduates applauded, sharing their happiness as the students completed this milestone.
"It was a rollercoaster of emotions to see our daughter graduate high school, from nervous to exciting to everything in between. As parents, we were proud of everything she has accomplished, and we can't wait to see her continue to grow in the future," said the parents of Diya Agrawal '22. 
"
Graduation felt pretty surreal because all of us are gonna branch out and form our own intricate and complex lives."
— Alexis Reyes '22
"Graduation was so exciting. Seeing all these kids that grew up with Vania walk the stage made me so emotional. I was also very impressed at how organized the whole event was especially since it had not been held here for the past 2 years. Congratulations to all the graduates, and I can't wait to hear and see all the things that they will be accomplishing in the near future," said Nada Khan, mother of Vania Khan '22. 
After the presentation of the diplomas, senior class president Emma Mohanty '22 gave her closing speech. Emma's speech was a culmination of the overview of events that took place this year, followed by her gratitude for her support system. 
"The scariest part for me was being vulnerable in front of so many people," Mohanty said, "but the response I received from people after my speech really taught me how powerful vulnerability could actually be! The moment felt surreal and full circle seeing all the faces of the class of 2022 grown up and ready to take on the world!".
Mohanty's address was followed by a final speech from general student council president Simone Stephen '22.
"Your past mistakes do not define you. Life is about joy. Everyday should be a celebration. Many times failures happen but guess what everyday is a new chance to turn things around to do better. I challenge you to dream big," said Stephen. 
Together, the class presidents made a final announcement instructing the class of 2022 to move its tassels to the left, signifying the end of their high school career. Caps were thrown in the air to represent the excitement and joy that came with this moment. 
"Graduation felt pretty surreal because all of us are going to branch out and form our own intricate and complex lives. My grad cap had a lyric from Kanye's Graduation album that says 'everything I'm not made me everything I am' and I chose it because it pretty much says all our flaws and the choices we regret or aren't proud of are what makes us today. Like I'm not the most athletic or the valedictorian but that's what makes me," Alexis Reyes '22 said.
The Eagle's Eye would like to congratulate all graduates from the Class of 2022! Keep reading!