Running Fast and Hard
This season has been physically and especially mentally challenging for Edison's track teams. Through the efforts of the varsity and junior varsity athletes, coaches, and managers, this season has been outstanding.
The girls performed well in the season opener at the Demarest Invitational. The team of Hailey Matz '23, Noreen Amponsah '24, Jada Bonds '24, and Grace White '25 placed first overall in the 4×400 meter relay. Matz also raced well in the 55 and 300 meter distance, medaling in both events.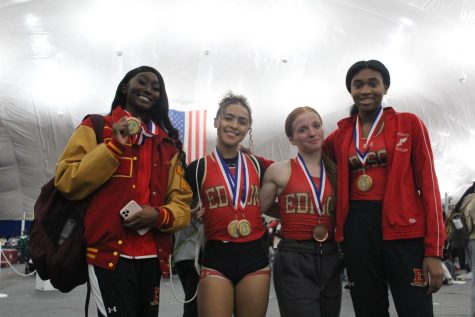 The relay team advanced to the Middlesex County Championships, where they qualified for the Penn Relays in late April, with a time of 4:16. They then continued onto the NJSIAA Sectional Championships, and they qualified with a 4:14 time for the Nike Nationals, where they competed against top teams from around the world. On March 12, 2023, they traveled to New York to compete at nationals, where they ran a hard race and placed first in their section with a new personal best time of 4:09.
The hard work of the individual girls have also shown throughout the season. At the championship meets, White ran a personal best of 2:24 in the 800 meter run, Rylee Mcevoy '25 raced in the 3200 meter event for the first time, Matz placed top ten in the finals of 55 meter dash, and Ava Yap '23 threw her personal best of 23 feet 8 inches in shot put.
"When you are younger and just starting a sport, there isn't that discipline and passion you have as you grow into an athlete," said Matz.
Her input and performance as a sprinter inspires many new and current athletes to work hard and show their dedication to the sport.
The girls in high jump have also been competitive and ready to step up to the plate throughout the season. Ria Datta '24 and Hailey Dawson '24 started their high jump journey recently and have already started making progress, jumping a height of four feet, six inches and four feet, four inches respectively. Ama Boateng '25 managed to climb to the top spot for this event within the sophomore class, jumping a height of five feet.
"I did track as just something for fun, but as I got to adapt to it more I started to take it more seriously," said Boateng. "I would have never thought that I could make it this far, and now being ranked first for Class of 2025 shows how much work and dedication I have put towards this sport. I also couldn't have done it without my supportive teammates and coaches."
The top boys continue their legacy from last year, with Akshay Vadul '23 breaking multiple school records in the 3200, 1600, and 800 meter run, placing him in the state's top five and the nation's top twenty, soon to continue his track career at Georgetown University. Victor Oseimo '23 follows up as number four in the state for the two mile run due to his race at the Ocean Breeze Invitational.
The boys Distance Medley Relay managed to defend their GMC title at the Middlesex County Relays with a time of 10:44, qualifying them for the New Balance Indoor Nationals. During the relay, Aiden Carter '24 made his mark in the 400 meter run with a personal best time of 52 seconds, accompanied by Oseimo, Paolo Pittenger '24, and Arav Raval '23.
The junior varsity team is also notable for their performances at the SJTCA Winter Meet #7. New athletes were given a chance to flaunt their skills during this meet, like Zeeshawn Ahmed '25 in the high jump event and Abigail Asamoah '26 in the 55 meter dash.
Last but not least, the coaches were a central part of the successes of the team. With a large team and very few coaching staff, Coaches Mr. John Krajunus, Ms. Dianne Ferraro, and Mr. Andrew Stivers have led the Eagles to favorable results. They describe the past few years as a fun journey and are excited to see what the future holds for the team.