Eagles Triumph in Earth Day Cleanup
With warm temperatures, beautiful sunshine, and a pleasant Friday mood, Edison Eagles science students made a green impact on campus on April 22.
"
It was [also] a beautiful day… everyone was outside and together having fun cleaning up the school, and it was just great.
— Mr. Stanley Stellakis
The Edison High Science Department took action this past Earth Day, equipped with gloves and trash bags, prepared to get their hands dirty and clean different sections of the school during class periods. Teachers and administrators involved included Science Teachers Mr. Christopher McKnight, Ms. Kruti Singh, Ms. Kathleen Stellakis, Mr. Stanley Stellakis, Ms. Rachel Sandler, Ms. Sabrina Hu, Mr. Michael Evans, Ms. Nicole Gregoire, Ms. Kaitlin Alusik, Ms. Marlene Morales, Ms. Erika Hennika, Mr. Matthew Zapoticzny, and Mr. Martin Goldman.
"I didn't want to just let the custodians or teachers clean it," said Stellakis, whose biology classes regularly focus on the environmental effects of littering and pollution. "I wanted everyone to be involved in the school community, and I think that's one of the things we're working on as we're entering a world of normalcy after coming back from COVID."
Stellakis initially came up with the idea for the cleanup as he noticed a buildup of trash during post-pandemic school years.
"It was about helping students find ownership of this building and not just thinking that it's a place to go from 7 to 3, but a place that we can call our second home," explained Stellakis.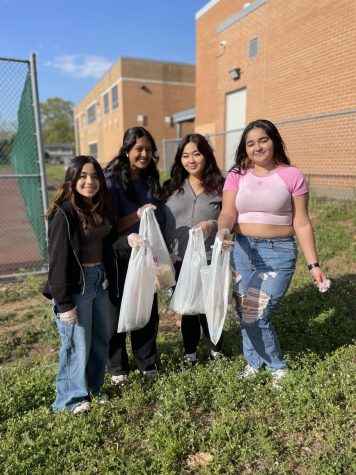 The cleanup was a unique break for students, who had gone outside to clean the building instead of attending their science classes.
"It was a break from a lesson, and getting outside during school was fun and different," said Prayagkumar Patel '26.
By the end of the day, students and staff had collected over 20 large garbage bags worth of litter from school grounds and gained an improved understanding of their contributions to the Edison High environment.
"I think more than just how much garbage we picked up, that the cleanup was a success because it helped our students be more mindful of their garbage and think about when they litter and what impact it might have," said Sandler, whose biology students also spent the day participating in the cleanup.
"It was [also] a beautiful day… everyone was outside and together having fun cleaning up the school, and it was just great," added Stellakis.
However, the cleanup effort does not end here. Encouraged by the event's success, Stellakis and other teachers plan on hosting biannual cleanups in the future.
Besides participating in organized cleanups, there are other ways for students to improve the school environment. Avoiding littering, as well as maintaining environmental awareness, can keep Edison High's environment beautiful for years to come.