A Call from Eagles Out of the Nest: Sherwin Yu
An ardent student, an active member of many extracurriculars, and an avid learner in the entertainment field, Sherwin Yu '17 is a proud Edison High School graduate and currently a junior studying at Wesleyan University. In his time at Edison High, he participated and involved himself extensively in the Eagle culture. Today, he sees, hears, breathes, and believes in film.
The Eagle's Eye contacted Yu for a chat about his experience at Edison High and inspiring ideas on the liberal arts industry.
EE: How do you think EHS prepared you for the college experience, specifically your major?
SY: In terms of extracurriculars, I really got myself involved in different clubs, sports, and activities in high school and I think that that has carried over into college—I have always loved participating in learning and growing experiences outside of the classroom. Being an active member of my college's creative scene has been really crucial in shaping my identity and interests at school.
Though he was only at Edison High for four years, Yu served as the student council class president, co-president of the National English Honor Society, co-president of the Philosophy Club, Vice President of Model United Nations, and co-captain and three-year varsity member of the track and field team for shot put and discus. He was a member of a myriad of other clubs and honor societies and, to his greatest delight, was instated as Mr. EHS 2017 in his senior year. More than just "getting involved," he engaged in various aspects of the school.
SY: Academically, I think EHS really helped create a solid foundation of knowledge for me, which really came in handy when I was making the transition to college. My high school English classes required me to spend a lot of time writing and workshopping my essays, thus shaping my writing style and voice at a relatively young age.
He became engrossed in literature and was able to develop his interest in writing and film through creative projects. Having had Mrs. Frey as his English teacher in freshman year, he created a film-based analysis on his favorite novel, Forrest Gump. He further developed an interest in classic Shakespeare, Jane Austen, Charles Dickens, and the likes, much of which is required background knowledge for his field, in Mrs. Corsun's literature class.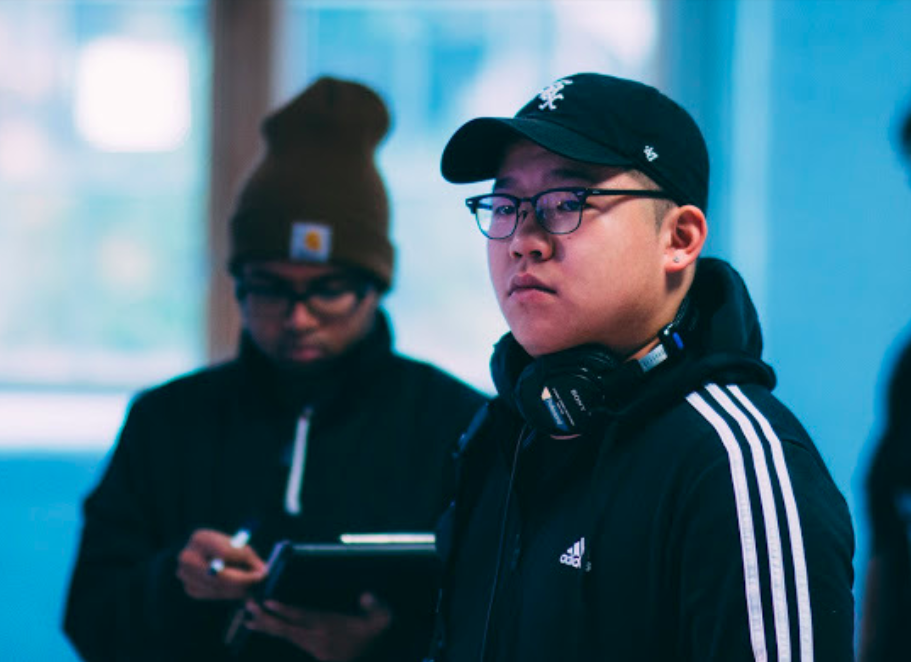 EE: How would you describe your transition from high school to college?
SY: My first semester at college was a bit tough mentally. Nobody from Edison High School went to my college (in at least the past decade), so I went in cold; I had zero friends and zero connections.
The only way to have friends is to make friends, so he involved himself and reached out to others, trying to find and create supportive communities. He now, inevitably, considers Wesleyan "his second home."
EE: Where do you see your major taking you in the future? What career do you see yourself within the next 10 years? 25 years?
SY: I find that almost every time I tell someone I am a film major, they ask me: "Oh, how do you think that will work out?" I like to answer, "Quite well, actually." The movie and television business is not dying out; in fact, we are reaching a fascinating point in human history where now we can experience so many forms of content at the touch of our fingertips.
Rather than being overconfident, Yu believes that the movie and television industry is flourishing and changing rapidly. This unprecedented level of growth due to technological advancements within the last decade has brought new jobs to the market. However, with this change comes unpredictability, good or bad.
SY: I really refrain from thinking on such a macro-level because so much could change within the span of a year, let alone 10 or 25 years. And if really nothing works out, I will probably just open my own noodle shop somewhere.
Since he started his studies, his perspective on the liberal arts and the entertainment industry as "removed and unattainable" was entirely disproved, due to his realization of his interests. Instead of pursuing the job and income security in STEM-related jobs, he followed his interests.
EE: How has your understanding of your major and college, in general, changed?
SY: I think film studies, and the fine arts in general, force you to invest a personal stake in your professional and artistic endeavors: What is the societal or cultural significance of my work? Who will be affected by my projects? What perspectives do I share with others? How will my work influence others, both consciously and unconsciously? What do I have to say about the world? Why is this important? Maybe I am still just too young or too much of a romantic, but there is definitely a sense of existential meaning that I associate with my college major and potential professional career which keeps me constantly frustrated, excited, and curious. So long as I have the resources, energy, and desire to continue pursuing these questions, I believe I will.
This type of attitude has guided him in his career in college. His classes include a variety from theory and studies of auteurs and canons to filmmaking and film editing for production. Yu has taken various roles in the production of senior thesis short films, worked on independent short films, and sound designed a theater production. He interned in managing box office information and promotion at Oscilloscope Laboratories for real-life experience. Yu looks forward to making his own senior thesis film soon and hopes to "continue on a similar trajectory for my remaining college summers and professional career beyond."
EE: What would be your main piece of advice to current high schoolers, in general and specifically for those pursuing careers in liberal arts?
SY: If you are not necessarily committed to being a surgeon, pharmacist, nurse, computer engineer, or actuary, I would say that college is a good time to experiment with different interests and passions as there are more limited negative consequences. This is not an excuse to dodge all your schoolwork and to waste your money and youth during college, but rather a suggestion to seek out new opportunities to grow intellectually and creatively.
Yu encourages current high-schoolers to continue exploring their options, as he did, even if they think they know their future. Even though he did not pursue the path he thought he would take after graduating from Edison High, he has pursued a career in filmmaking that interests him and is part of an untapped market, quite profitable really. Rather, as he phrases the idea, "Better to live a life full of "can't believe I did that" sentiments rather than 'I wish I did that' ones."
---
He suggests the following films to those looking for a good movie or interested in background for the film major:
M (1931) directed by Fritz Lang
Anatomy of a Murder (1959) directed by Otto Preminger
High and Low (1963) directed by Akira Kurosawa
Black Girl (1966) directed by Ousmane Sembène
Harold and Maude (1971) directed by Hal Ashby
Ali: Fear Eats the Soul (1975) directed by Rainer Werner Fassbinder
The Ascent (1977) directed by Larisa Shepitko
Taipei Story (1985) directed by Edward Yang
Do the Right Thing (1989) directed by Spike Lee
Boogie Nights (1997) directed by Paul Thomas Anderson
No Country for Old Men (2007) directed by the Coen Brothers
Dangal (2016) directed by Nitesh Tiwari
Burning (2018) directed by Lee Chang-dong
The Farewell (2019) directed by Lulu Wang
Parasite (2019) directed by Boon Jong-ho