Where on TV Will We See Him Next?
Omar Maskati: Now-Actor, Previous Edison High School Student
Have you ever heard of Better Call Saul? Maybe Quantico? Or The Handmaid's Tale? They have something in common beyond that they're all on streaming services. Each of these series has a character played by an EHS alum.
Omar Maskati '07 launched his acting career upon graduating from EHS and the University of Pennsylvania. "High school is a very formative time," Masktati said. "You're just kind of really a teenager and you're learning what it means to be a teenager and getting closer to adulthood. Just lifewise, making friends, and sorting out who you are and who you want to be and who you want to be friends with and who interests you.
"I didn't realize it at the time, but not every school has such great teachers and programs. It was super fun."
During his time here, Maskati developed his interest in acting through his extracurricular activities. An avid member of choir and theater, including the yearly spring musicals and plays, these experiences were creative outlets and awesome opportunities to become involved in the Edison High School community.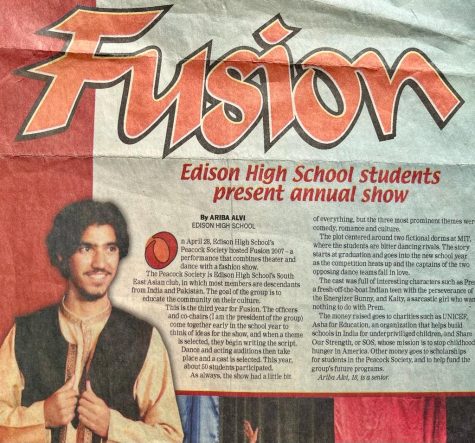 "It [EHS] played a big part of that [interest in acting], for me, someone interested in the arts, and I hope it still is. It had such great programs, like the choral program, band, and the musicals," said Maskati.
Maskati developed strong bonds with both his peers and teachers. He especially remembers choir director Mr. Kenenth Brown. "As a teenager it was cool that he held us to a high standard because it was like 'Oh, we're adults.' He's not treating us like kids and he expects us to be present and focused," he said. "He was such a good, generous, caring and classy person. There was a lot to like about Mr. Brown. He fostered an environment for all of us to learn."
Maskati was also influenced by Mr. Brian Harris, the director of the school's musicals and math teacher, his Algebra 2 and AP Calculus AB teacher Ms. Lynn Harris, and Ms. Jen Dodd Harris, his seventh grade mathematics teacher.
"
I didn't realize it at the time, but not every school has such great teachers and programs. It was super fun."
— Omar Maskati
Alongside his extracurricular endeavors and involvement in theater, Maskati excelled academically. He was salutatorian of his class and had an interest in engineering.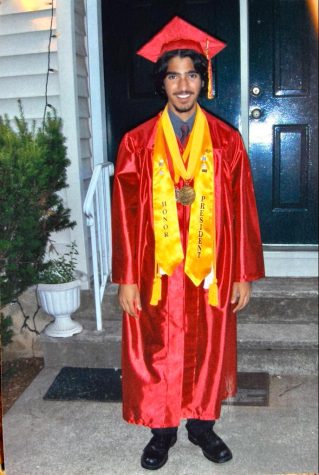 "That gave me confidence. I hope, I like to think, that it wasn't a conceited sort of confidence or something or like too big," Maskati said, "but like a self confidence that I can do things, I can achieve things, I am capable, I am competent, and maybe above average in certain areas, and that is nice. That helps your self esteem, that helps your feeling of self worth and value, and not everything is academics."
After graduating from Edison High, Maskati attended the University of Pennsylvania with a major in engineering and a minor in theater.
"I graduated college 11 years ago, but I'm not using my degree in that sense right now, but I think that's okay. Again, it's the same thing where it's a journey and these are all experiences and college is a way to sort of hone in to getting closer to getting to what interests you. That degree will never fully encapsulate everything that interests you, unless you do a million degrees or double major and stuff. That's why I did my minor in theater arts because I realize this is something I still want to keep, I keep acting in my life," said Maskati.
His latest TV show was Good Sam, a CBS medical drama, and he starred as Dr. Isan Shah, a surgical resident in cardiothoracic surgery.
As his character struggled with confidence and image, Maskati said, "Episode 2 was fun because there was a scene at the nurses' station, my character sort of having a panic attack and everyone was like what are you doing."
Throughout the show, there was competition between the residents to be the best but there were moments where they felt like a team.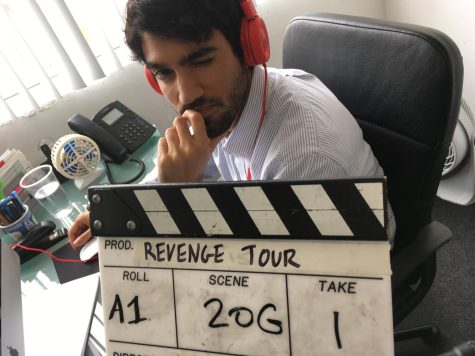 Maskati said, "We only had so many chocolate bars, and afterwards we all cheered for each other and took a huge bite and spit it out because it was a snickers and gooey or something, and we all just cracked up, it was really silly and fun. That was a fun one to shoot, despite all of us wanting to go home and get out of the cold."
During the shooting, Maskati had become really good friends with his co-stars as they celebrated birthdays together and went on trips together. He said, "There was so much fun stuff that we did, I'm sad it didn't get renewed, mostly because those people were awesome."