Rooting for Root: EHS Athletic Trainer Awarded ESP of the Year
Mr. Timothy Root has been recognized for his commendable contributions as the Edison High School athletic trainers with the Educational Support of the Year award. This honor is a testament to his tireless work, dedication, and commitment to helping the athletes, coaches, and teams at EHS reach their full potential. Having been a part of several championships, Root has played an integral role in furthering the nests' pride and success in sports since 2003. 
Part of his ability to help EHS athletes stems from his extensive understanding of sports medicine, conditioning, and rehabilitation. Using this knowledge, he helps the athletes under his care recover from injuries and improve their performance. 
"Mr. Root is the 'go to' person when an athlete gets injured in a game or practice," said Mr. Dave Sandaal '90, EHS Athletics Director.
As a matter of fact, in the winter basketball season of 2016, Root's expertise was called upon during a freshman basketball game when a Colonia High School Student collapsed during the game after going into cardiac arrest. 
Root immediately applied different life-saving techniques such as the use of the AED, or Automated External Defibrillator, which he was able to make operational by prepping the student in a matter of minutes.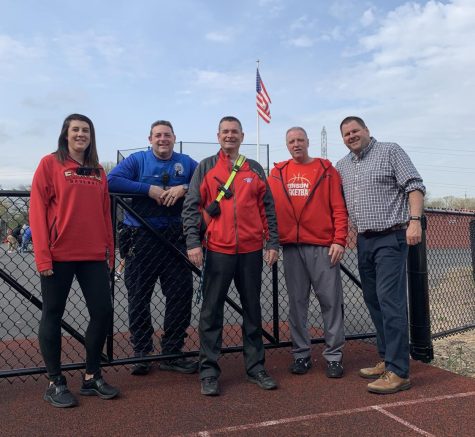 "When I saw the student athlete collapse I noticed that Mr. Root and the coaches from both teams reacted very quickly and were in a big rush to check on the student," said Mr. Mark Blevins, EHS physical education teacher, who was also at the scene alongside Root and Mr. Tyler Jackow. Blevins attributed Root's swiftness to his "ability to de-escalate stressful situations and be a calming force that sets him apart from the rest."
This is just one example of the ways Root supports athletes with their best interest and health at mind. In addition to his technical skills, Root is also known for his compassion and mentorship. He is always available to listen to the athletes, offer guidance, and provide encouragement. 
"Not only does he help me try to feel better but he usually explains to me what is going on with whatever muscle or bone I hurt so I know how to prevent it the next time," said Khaliyah Revan '25. 
He is a role model for the students, and his positive attitude and energy have earned him the respect and admiration of the entire school community. Root's work goes further than directly working with athletes to improve their well-being; he is also responsible for distributing awards during the three varsity awards nights and makes sure any supplies or equipment is available to the teams.
Root's positive demeanor alongside his crucial responsibilities in the EHS athletics department have been and continue to be a force that drives coaches and athletes alike to success. Through it all, he has remained selfless and humble. 
"He never asks for any credit; he just does his job," said Sandaal. EHS is lucky to have him!"